I wore this yesterday to go to a judo tournament. The family who I know here in Austria are members of a judo club, and this is the second tournament I've been to now to support the team. Last time I didn't really get it, but yesterday I had the rules and how to win points etc explained to me, and I really started getting into it. I've applied for tickets to some of the Olympic judo events for next summer on behalf of my Austrian friends, so hopefully I'll get them and be able to go. I can see myself turning into quite a big judo fan!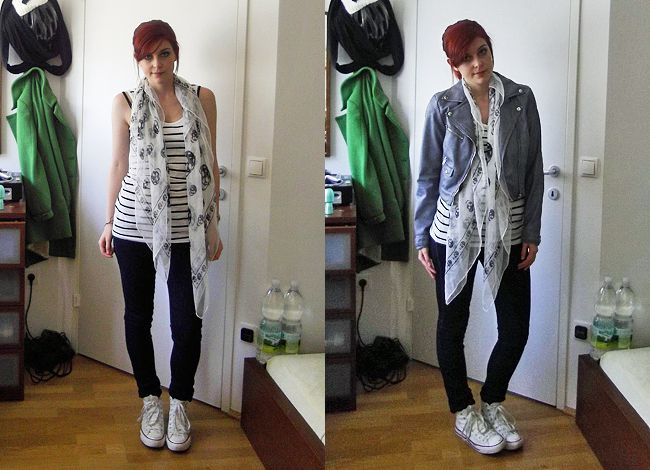 These jeans are another pair of the super cheapy €9.95 H&M ones. These are a darker colour and lower rise style than the others I've got though, which I didn't realise when I bought them, and the difference in fit means they're a little on the tight side. I haven't worn super skinny jeans for months now, and it's taking me a while to get used to the limited leg movement again!
My scarf is a new purchase from
Melanie
's blog shop. I've been looking for the perfect skull scarf for ages but not found one with non rubbish-looking skulls until now. Very chuffed with it, and I can see it coming into use as a hair accessory a lot this summer too.