I've decided it's about time I resuscitated my Featured Blogger, um, feature, so who better to kick it off again than the lovely Ayden? Her
Little Blog of Horrors
is one of my favourite blogs, I always enjoy reading about her life and adventures. I'm really envious of her awesome
tattoos
too! So, on with the interview!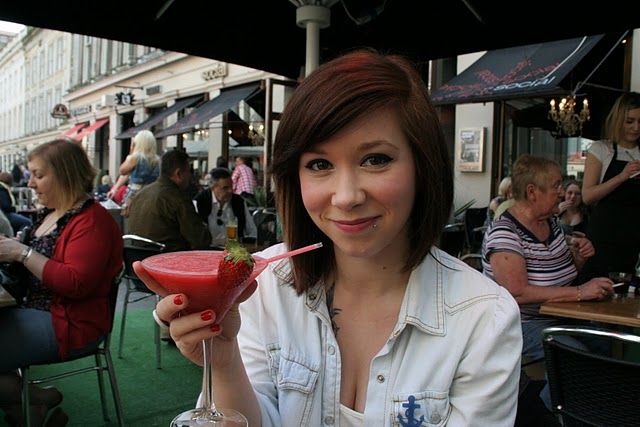 Isn't she gorgeous! Well jel!
How would you describe your blog?
It's pretty much just like a journal of my life. I don't stick to any particular theme, I post a mishmash of adventures I've been on, tattoos, clothes, makeup, travelling, baking, working in the film/tv industry... A little bit of everything really :)
How would you describe your style and what are the key elements of it?
I love shopping, but I am completely hopeless when it comes to fashion and dressing myself up. I'd say my style was eclectic, comfy, and cute. You'll mostly see me wearing dresses and cardies, or skinny jeans with a hoodie and vans! Very boring... I know! Haha.
Who are your style inspirations?
I really love the style of Marina Diamandis and Katy Perry, for their pretty wacky and 'out there' taste at times :) Plus, they are both bloody gorgeous and seem to have a real light heartedness and sense of humour when it comes to fashion. I love the kind of laid back rock chick style of Fearne Cotton also, and as a tattooed girl myself Kat Von D is a total inspiration! More for the fact that she is the epitome of not caring what other people think of you, looking/dressing the way that YOU want to, and not being afraid to not follow the crowd.
Ayden's amazing DIY accessories for a Katy Perry concert.
Where are your favourite places to shop?
Reko dresses are my absolute favourite, and my definite 'go-to' when I feel like treating myself. But on a normal day, I mostly shop at Topshop, Urban Outfitters, New Look and Primark. Even if I won the lottery you wouldn't catch me in designer clothes - I'd just spend an absolute bomb in the shops I normally buy clothes from!
What trends are you looking forward to trying out this summer?
I really have no idea what is on trend at the moment. But this summer I hope to wear more floral/60's/rockabilly style playsuits, with bare legs (tan up my white scottish legs first haha) my Rayban's, and some nice chunky gladiator sandals I've been eyeing up from Office. To be honest, I'm really just looking forward to it being summer in general and not having to wear tights and a thick cardi (although I do LOVE my cardies ) with absolutely everything. Bring on summer! :)

What's on your wishlist at the moment?
It's my birthday soon, so I do actually have a little wishlist at the moment. I would really love to get my hands on some Nars Sheer Glow, A Nars Blusher, the Katy Perry OPI collection, a Moroccan Oil hair set, A Vivienne Westwood purse, a bag from Cath Kidston, and a Tiffanys Key.... I'm not asking for much eh?! Haha it's only cause my family always pester me for gift ideas but I am never really wanting for much. So hopefully this years list is something for my family and friends (and boyfriend on the last listed pressie, hint hint) to sink their teeth into ;)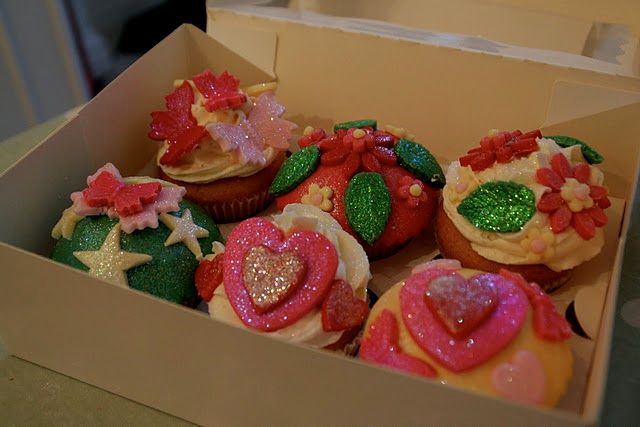 Ayden's mad cupcake-decorating skillz!
You seem to be getting into cooking and baking a lot recently, what's your favourite thing to make?
I guess since moving away from home for the first time 8 months ago, I've been making more of an effort to cook and bake - but to be honest my boyfriend is much better than me! We have made a few things from the Wagamama cookbook (which is our fave style of food) and I'd love to have a go at making sushi at home soon. On the baking front, I've only really done Cupcakes, American Breakfast Pancakes and Macaroons so far. I am a pro at buttercream icing and piping now, thanks to the Cupcake making class my friend got me for christmas. I would really love to master Macaroons, Nigella Lawson and Lorraine Pascale make them look far too easy! But hopefully with practice I'll get better (and bye bye bikini body...)
You're a bit of a make-up junkie it seems, what are your can't-live-without beauty products?
I'm a bit of a blusher fiend, and I feel really washed out if I don't have nice pink, blushy cheeks. Estee Lauder Double Wear Light is my fave foundation, along with Dermalogica Clean Start Welcome Matte Moisturiser before hand. I've still not found the perfect mascara, and I'd say Mac are my fave for lipsticks and Urban Decay for eyeshadows. I swear by Mac fluidline in blacktrack, its the best gel liner I've came across! I really need to work on a good skincare regime, apart from moisturiser I don't really treat my skin to anything special. It's going to hate me in a few years time!

What's the best thing about blogging?
The best thing about blogging has to be the wonderful people I've met, the strong relationships I've built, and the fun swaps/exchanges/pen pal letters I have given and received. It has exposed me to a whole load of exciting situations and wonderful people I wouldn't have otherwise came across if I hadn't started blogging. I think some people take it too seriously mind you, and need to be reminded that it's meant to be FUN. And not a competition or a place for bullying or hate. But I'd say the positives of blogging definitely outweigh the negatives.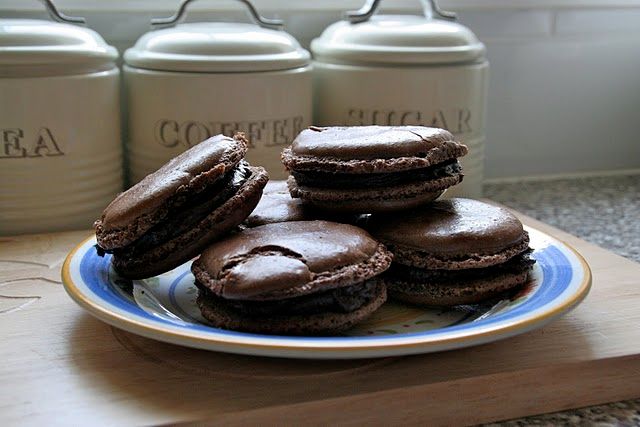 The girl can even make macarons, which from personal experience I can tell you are a devil to get right!
Which are your favourite blogs?
Ahhh too many to mention! I have a
blogroll list
over on my blog which contains all my favourite reads. I have met some really great girls on here with fantastic blogs, but always on the look out for more wee gems.
Thank you
Ayden
for agreeing to be this month's featured blogger and for answering my questions! If you haven't already, make sure you go and read her
blog
right now, you won't regret it.