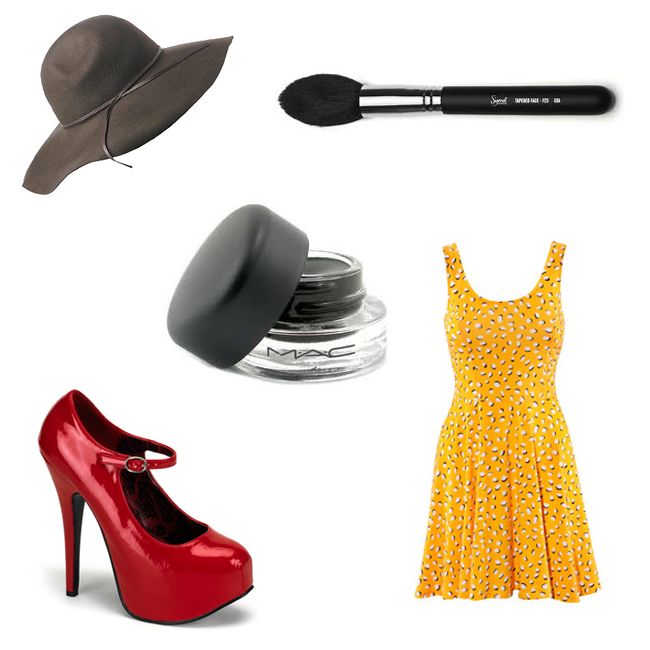 New Look Floppy Felt Hat
- I actually want a black version of this, but they don't have one on the site. This would be perfect for summer cause I'm so paranoid about the sun, and this would keep my face in the shade. I top up my sunscreen throughout the day, but you can't really put any more on your face without taking all your make-up off, and I worry that the spf on my face (from sunscreen/moisturiser/foundation) disappears after a couple of hours and I don't want a burnt/sundamaged face!
Sigma F25 Tapered Face Brush
- I bought a few Sigma brushes about a month ago as I figured if I'm going to buy nice make up I may as well get some decent brushes to apply it with. The brushes I've got are brilliant and have really improved how my make up looks, and this tapered face brush is next on my list. Hopefully it will help me get the hang of contouring.
Mac Fluidline in Blacktrack
- Loads of you have suggested this to me since I posted about my MAC makeover and asked for suggestions as to what else to get. Apparently it doesn't budge once it's on, which I need at the moment as the liquid liner I'm currently using doesn't last five minutes in this heat without smudging all over my face. The exchange rate of £ to € is really rubbish for me at the moment though, and makes MAC make up especially about 40% more dear if I buy it here in Austria, so I might have to wait until I go home to get this :(
Bordello Teeze Red Mary Janes
- Selina from
Flying Saucer
was asking me recently about the pair of Bordello heels that I've got (black glitter with ribbon ties, they're so amazing! See them
here
), and it made me want a new pair. I really like these red patent mary jane ones, I think they'd look great with skinnies and a nice top for nights out, or meals with friends when I want to make an effort but not go full out with a "going out" dress. They're about £55 which is a lot less than you'd pay for something similar in Topshop or Office, and I've just got about £50 more than I thought from my Erasmus (study abroad) grant, so I might set it aside and treat myself to these when I get back to the UK.
H&M yellow dress
- I love the colour and shape of this dress, it's so summery, but when I tried it on it was so short! My mum is sending me my black cycling shorts with lace hems though, so I could wear those with it, or just denim shorts underneith to avoid flashing. I can still see it being a bit too short for the Austrians though! Another annoying thing is that I thought it was quite well priced at about €15, but then I saw that it's only £7.99 in the UK! The £ to € exchange rate is only about 1.09 at the moment, so I'd be paying almost double here than I would at home, and I'm not sure if I like the dress enough for that. We shall see. I'm hoping it'll be too short for the Viennese and so there'll be some left at the end of the month, in which case, if I've got any money left, I'll probably get it.
What's on your wishlist at the moment?