For a while now I've been thinking about introducing a regular feature on the blog of highlighting smaller, independent brands, especially UK ones. So when I found out about Mermaid in England recently, I thought it would be the perfect brand to start off with. This isn't a sponsored post, I just really like the brand and wanted to share it with you all.
Mermaid in England
is a line of incredible colour-changing swimwear. The pieces start off as one block colour, but then when they get wet they change to reveal new colours and patterns.
Mermaid in England is the brainchild of designer Natasha Roy. The idea for the "AquaChange" swimwear came about when Natasha was adding lining to a white bikini to stop it becoming see-through when wet. Inspiration struck as to how to turn a design flaw into a design feature.
Unlike other colour change fabrics, no chemicals are used on the fabrics used for Mermaid in England swimwear. The colour change effect is down to the construction of the pieces from two layers of fabric. The top fabric goes see-through when wet to allow the pattern underneath to show through. Very clever.
I was pleasantly surprised by the range of styles available. Mermaid in England sells both one-pieces and bikinis, with tops and bottoms in a range of styles, so there's something to suit everybody. I like that you can buy the bikini tops and bottoms seperately, so you can mix and match, or just wear one piece with another plain top or bottom.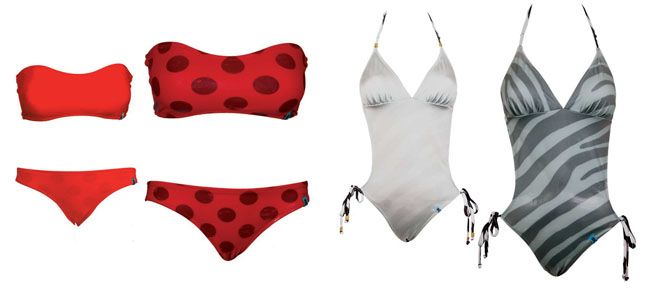 The prices are also reasonable for such an innovative product, the seperates are around £32 each and the one-pieces are £72-£84. Yes it's more expensive than Primark, but Mermaid in England products are printed and produced in the UK to ensure high quality and ethical manufacturing practices, so you're going to get a product that will last a lot longer, and your conscience will be clear too.
Finally, here's a little video so you can see the colour change in action!
What do you think about
Mermaid in England
? Would you wear a colour-changing bikini?