The day started for me with meeting
Emma from Oh Really?
at the train station (we live in the same place), with approximately 30 massive yellow
Max C London
tote bags. I'm pretty sure she immediately regretted saying she'd help me get them into Birmingham! It was a nightmare lugging all the bags about (they weren't even heavy, there were just so many!) so we got a taxi to the hotel we were staying at. As you can see, the bags completely took over the taxi...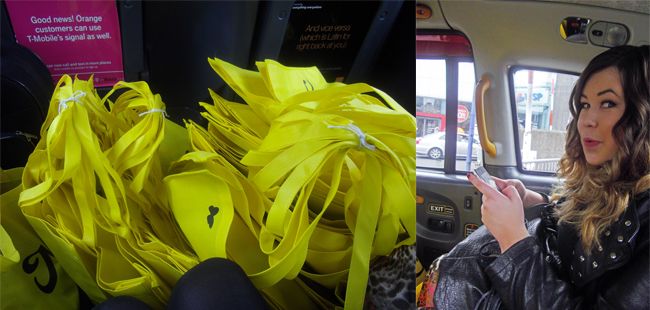 Once we got to the hotel, as well as our own suitcases and the Max C goody bags, there was a huge delivery from Clothing at Tesco there waiting for us, so we decided to use the hotel trolley to transport everything. Of course the trolley had a mind of its own and wouldn't go in a straight line. Much hilarity ensued...

After dropping off our stuff and having a good old nose at the Tesco goodies, it was off to Starbucks to meet everyone! We took up a ton of space, especially when
Sara
and
Selina
turned up with even more goody bags! I was totally overwhelmed by the turnout, almost everyone who said they were going to come did. I'll put a list of everyone's blogs at the end of this post.
Image from
Elizabeth from Rosalilium
Then I dragged everyone off to the Bullring bull and St Martin's to take pictures, before we all split up to go shopping.
After an afternoon of retail therapy (I actually only bought one thing, and I've returned it now...) it was off to
Red Peppers
at the Mailbox for dinner.
I can't praise the restaurant highly enough, the service was incredible. Not only did they manage to accommodate the extra six people on top of the number we had given them, they managed to get all our food out at the same time, and even people who turned up after the rest of us had ordered got their food really quickly. No-one was ever short of drinks, and the staff were really helpful and friendly. They were even ok with us taking over a corner where everyone could rifle through the clothes given to us by Clothing at Tesco to choose what they wanted. The head waiter was a bit concerned we were stripping off and getting changed though, but
Claire
reassured him that that was not the case!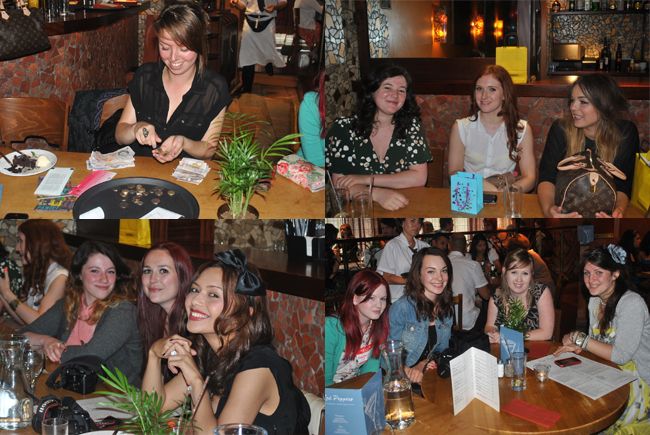 Claire
(the human calculator) counting all the money -
Maria
,
Selina
and
Lily
-
Hayley
,
Danni
,
Tasha
and
Char
-
Rebecca
,
Elizabeth
and
Michelle
After dinner we all had to sadly say goodbye and most people headed off to the station to catch trains home. Nine of us stayed on for a brilliant night out, but more of that to come in a later post!
I want to say a huge thank you to all the girls who came, I honestly wasn't expecting such a big turnout! I wish I'd had more time to talk to everyone, reunion soon yes? Make sure you check out all of these blogs, they're such a lovely group of girls!
Char
,
Claire
,
Clare
,
Danni
,
Elizabeth
,
Elouise
,
Emma
,
Emma
,
Florrie
,
Gem
,
Gem
,
Hattie
,
Hayley
,
Joy
,
Lily
,
Louise
,
Maria
,
Michelle
,
Rebecca
,
Sara
,
Sarah
,
Selina
and
Tasha.