This is the last post about the #brumbloggermeet now! After the meal most people went home, but a few of us stayed on for a night out at Panic!, an indie night at the HMV Institute in Digbeth. (After a cheeky trip to Tesco express for some wine and cider and pre-drinks whilst getting ready at our hotel that is!)
It wasn't the busiest night ever (when we turned up it was us lot and about four other people!), but it was loads of fun. The music was great and drinks were only £1.80 for a vodka mixer, which is why we all look a little, ahem, merry in the pictures! The girls who stayed out are a brilliant bunch, and I can't wait for a reunion for another night out with them!

Gem, Gemma, Sara, Emma, Myself and Claire. Picture via Sara.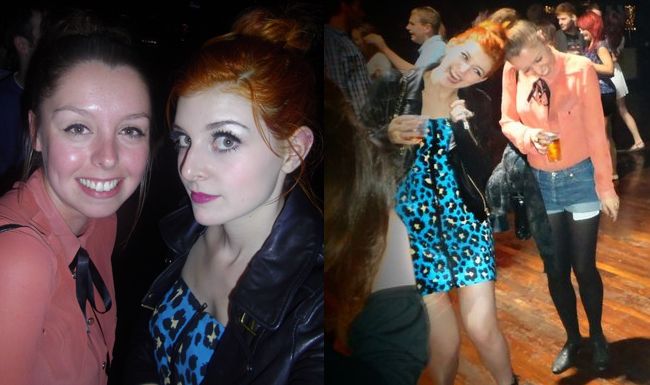 My amazing co-organiser Claire! I love her! We were topknot twinnies on the night. I'm wearing a Clothing at Tesco dress and Asos leather jacket. Right-hand picture via Sara.


Selina, Emma, Rebecca and Gemma.


Picture via Sara.


Emma won the prize for best drunk of the night (really, we gave her an actual prize!) Although Gemma wasn't far behind, running around telling everyone she's Welsh (which to be fair she is...) and telling guys they looked like actors...


Emma is grinning in every. single. picture. She was obviously enjoying herself!


Myself and Gem. I pinched this picture from her.