This post is probably going to get a lot of criticism and cause a mass un-following of my blog. Why? Because, *shock horror*, I'm committing that most heinous of fashion blogging sins, and I'm wearing *gasp*
Ugg boots
(cue widespread shuddering and feelings of revulsion.) I was going to write a justification of why I own and wear Uggs, but sod it you know, it's my blog and most importantly my body, and I shall wear what I bloody well please. What I will say is that I was wearing them in July because it's always freaking freezing in the cinema, and I refuse to shiver through two and a half hours of film. It ruins it.
Anyhow...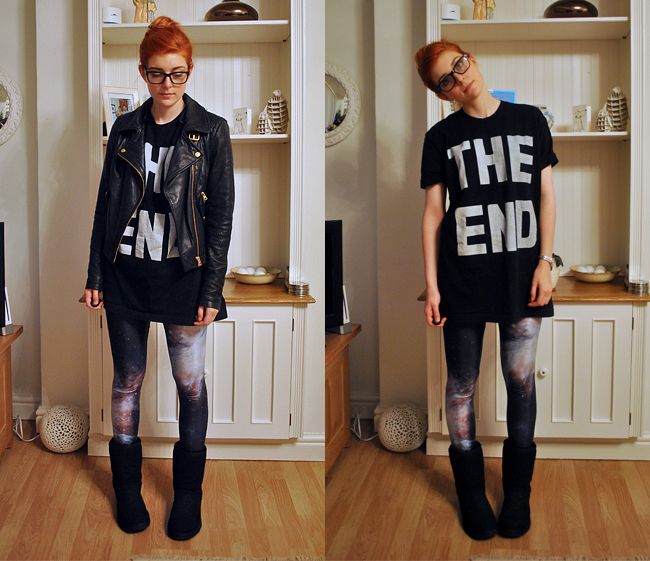 Asos jacket, Uniqlo cargigan, Print Liberation t-shirt, Black Milk leggings
These are my new
Black Milk
leggings, the black galaxies. Yes I know I already have the blue ones, but they were just too pretty to not get. And I wear a lot of black, so they're practical as they go with everything...
I've been to see Harry Potter this evening, and although it was good, I must say I was a wee bit disappointed. I just felt that for all the spectacle of it, the huge battle scenes and that, it lacked the wow factor. The previous one was much better. In fact, Transformers 3 was much better. I saw that yesterday. On my own, cause I am cool like that...
I'm off to London again very briefly tomorrow for the Forever 21 Oxford Street store launch party, (anyone else going?) and then I'm home again on Thursday. And then it's the Birmingham Blogger Meet on Saturday. I'm so freaking excited!!! If anyone wants to come who hasn't said so yet, send me an email or tweet me and I'll give you the details. It's going to be so much fun!
Edit: Just realised how fitting this t-shirt was for going to see the last Hazza P film. Didn't even notice that until just now. I must have looked a right nob in the cinema!