It's that weird thing about the fashion world, you're always thinking a season ahead, and although it's the middle of August (though admittedly the weather isn't too summery in the UK at the moment,) the autumn/winter collections are already hitting the shops. For me that means it's time to start seriously considering the upcoming season and decide what looks and key items I want to buy into, so I can "shop smart."
It may sound like I'm being a bit of a slave to the trends here, but it's more about trying to have a general framework for clothes shopping in my head so that I don't waste money buying pieces I'm not going to get wear out of because they don't fit in with the rest of my wardrobe. I won't be a total fashion victim and blindly follow every trend, I like to identify what looks for the next season most appeal to me, and most importantly, how they'll fit in with my existing style and wardrobe.
Which is where this series of Autumn/Winter planning posts comes in. They're as much, if not more, for me than for you, my readers, but maybe they'll give some of you some inspiration too!
I'm going to start off with looking at my favourite designer collections for AW 11 and see what elements I'd like to take from them, then identify overlying themes and trends that I like, and working out a "key items" shopping list from there.
So, let's kick off with my favourite collections!
House of Holland
House of Holland is up there in my favourites almost every season, and AW 11 is no exception. I love the "cool granny" vibe of it. Granted, colour isn't really my thing, you all know how I love a black on black on more black look, but if I were to wear any colours this coming season they'd be brights like these eye-popping tweeds in the HOH collection. (I can't really wear pastels now with orange hair, they just look wrong together!) I'll definitely be cracking out my
brown tweed Zara jacket
though, and I've just bought some green wool trousers which will certainly help channel the HOH vibe. The afghan blanket print would be hard to replicate, unless the highstreet come out with a
knock-off
inspired
print, but it's got me thinking about blanket capes. The big slouchy jumper over a slip dress looks brilliant in my opinion, and will be really easy to replicate with high-street and/or vintage pieces.
Meadham Kirchoff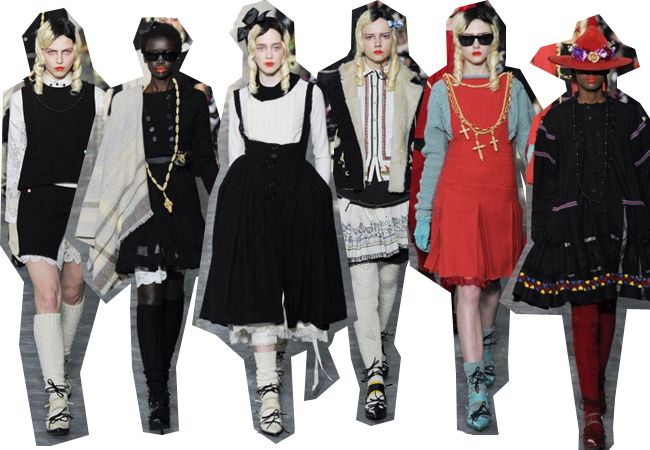 Lots of black and white, which is right up my street, and I love all the layering. The folksy theme isn't something I think I could pull off without looking like I was in costume, but I think I'll be drawing on elements of it, such as the thick woolen socks and full skirts. I like the oversized rosary necklaces too, they tie in with the
90s grunge thing
I was going for last winter. Again, blanket capes make an appearance, so I'm making a mental note to think more about those!
Chanel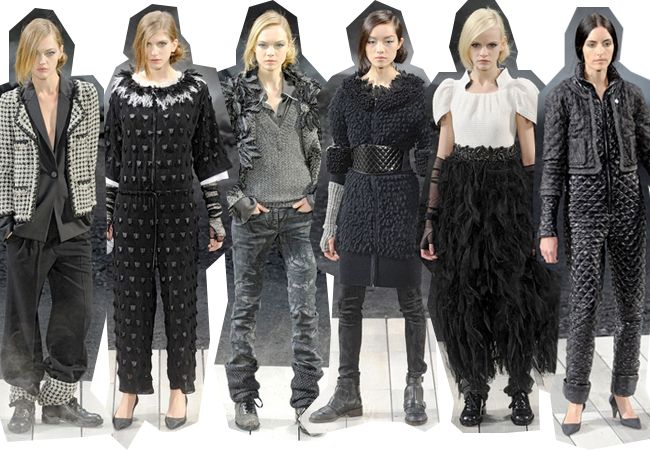 I love this collection because it shows that black on black doesn't have to be boring. There were seemingly hundreds of different fabrics and textures used in the Chanel AW 11 collection. It may seem a little difficult to pull inspiration from some of the more "unwearable" ensembles, such as the model on the far right above who appears to be wearing a jumpsuit made out of 2.55 handbags, but I'm thinking that textured jackets - quilted, knitted, appliqéd - are the thing to focus on, along with layering and mannish shoes. As if I needed any more incentive to finally get around to buying myself some chelsea boots and creepers! Some carefully folded legwarmers would also go a long way to echoing the slouchy boots/turn-ups going on over at 31 Rue Cambon.
What do you think of these collections? What were your favourites for AW 11? What trends and looks are you liking for the upcoming season?