Clothing at Tesco jumper, Topshop shorts, New Look floral trainers, Missguided floral hairband*, Jewellery from my shop
A bit of a casual outfit, but sometimes you just want a really comfy day don't you! I bought this jumper last year for an Alexander Wang-esque look. You can see how I originally wore it
here.
It's so comfy, I really should wear it more often.
I had a bit of spare time the other night so I thought I'd do some WAH nails inspired nail art.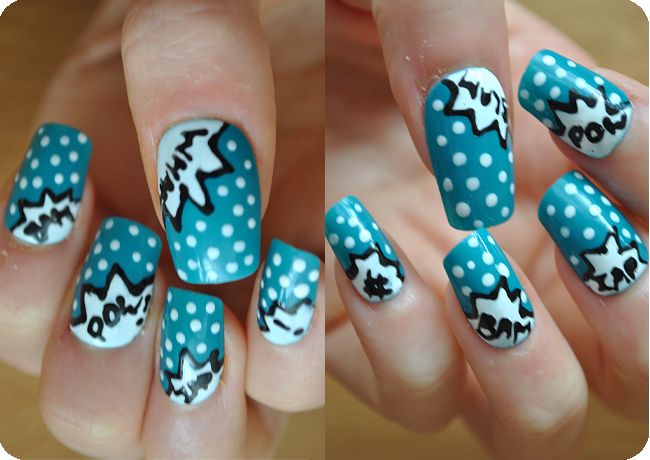 Missguided nail polish in MissTique (teal)*, eBay nail art pens
It's a bit smudgy and you can't read all of the words properly, but I'm quite pleased with how these turned out!
I'm pretty tired from the festival at the weekend still and I had to get up early this morning for my German lesson, so I'm going to have a slow day window shopping with my mum at the new(ish) shopping centre in Derby today. I might end up spending a bit of money on some clothes for A/W now I've started doing my planning posts (
here
and
here
) and they have a great indoor market where I'll probably pick up some crafty bits and pieces for some more DIYs.
The top 5 winners of the
Look Show competition
are being announced later today too and I'm so nervous! If I don't make it any further then I'm still thrilled to have been in the
top 20 shortlist
, but I would of course love to win too! Keep you fingers crossed for me guys, and good luck to all the other shortlisted bloggers too.
Finally, thank you for all your lovely comments on my post about my
Alice in Wonderland-themed birthday party.
My Dad will be thrilled to know how much you all liked the cake he made! Oh, and for all of you wondering about the giant jammy dodger, it was made out of (a lot of) shortbread using
these giant cookie moulds
, except I got mine for cheaper in The Works rather than on Amazon.