Last Friday was my 21st birthday, and on Saturday I had a Mad Hatter's Tea Party to celebrate. It was fancy dress of course, and I decided to go as the Queen of Hearts.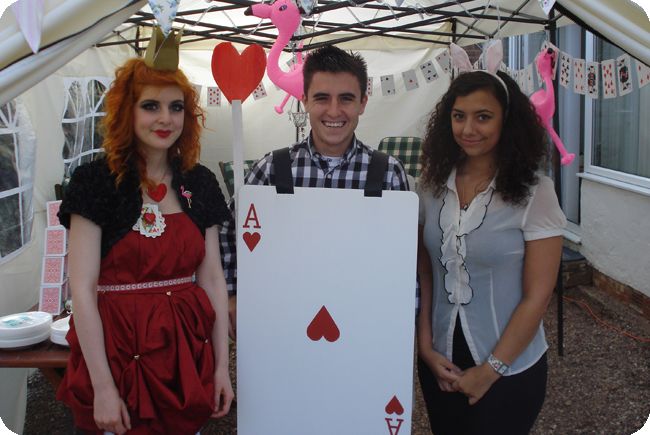 Me, my best friend's boyfriend and my best friend. Mark made his costume himself(!)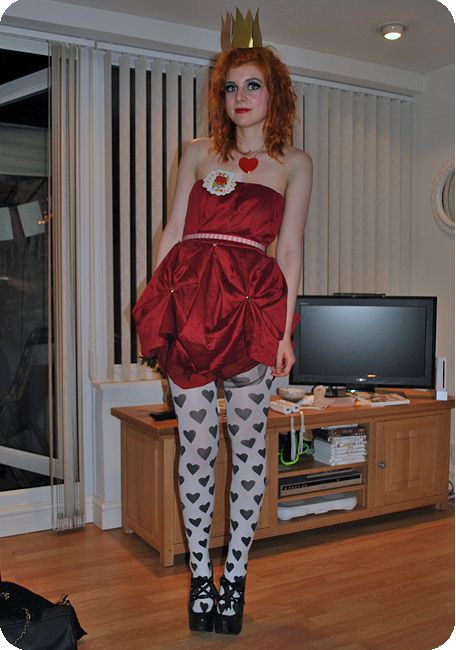 I already had the tights, necklace and jacket-y thing so I just had to get a dress. It's originally from Primark but I got it off eBay, and was just a strapless, knee-length prom dress style to begin with. I ruched up all the layers and sewed on the beads. I also made the playing card badge myself, and a pair of earrings (which you can't see) with dangling hearts and a Queen of Hearts poker tile ring. I found the flamingo badge in Primark a few weeks ago and snapped it up as it was perfect for the outfit.
You can't really tell but I did heart-shaped lips. I did my hair with the
Remington spin curl hairdryer
, which suited the character but I hate how I look in all the pictures. The hair and make-up together make me look totally fugly!
We decorated our marquee and the rest of the garden with tea-light holders and bunting.
The playing card bunting is made out of giant foam cards designed for the garden and took me hours to string! I love the blow-up flamingos!
I also made a Cheshire Cat vanishing into the hedge, and towers of cards.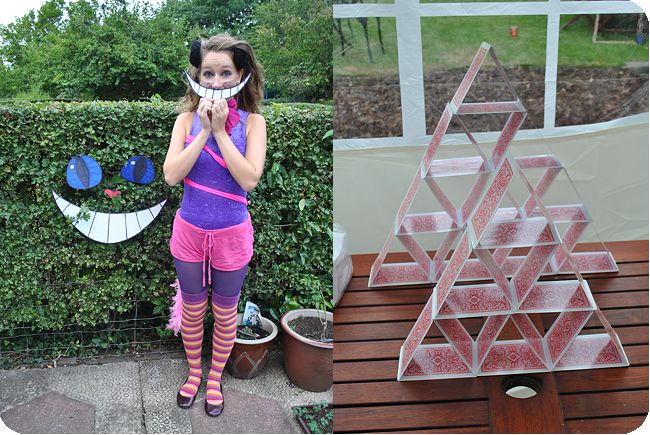 Of course the main part of the day was the food! We had loads of tea and Pimms in a watering can. We possibly went a bit OTT on the cakes! They took all morning to ice and decorate but I think the effort was worth it!

Yes, that's a GIANT Jammy Dodger in there!
Everyone made a real effort dressing up which I was really pleased with! My friend Sophie's mum and older sister also came, as I've known them almost my whole life, and even they dressed up!
Finally, my Dad really excelled himself with my birthday cake this year. He always makes the best cakes, (well, my Mum bakes them then my Dad decorates them,) but this year's was incredible. It took him hours to do and he bought a ton of special fancy professional cake decorating tools to do it!