If you've read my blog for more than a couple of months you'll know that I'm a wee bit obsessed with Nicola Roberts. I'm a big fan of her style and her hair and I'm loving that she's releasing solo material now. I even pre-ordered a signed copy of her album a couple of months ago, and it's still not out for ages.
When I dyed my hair extensions to match my new(ish) orange colour I ombre-d the ends a bit to look a bit like Nicola's ombre hair. Obviously it's not exactly the same as the ends of my hair aren't blonde, but it's the same kind of thing.
I was watching the
Beat of my Drum
and
Lucky Day
videos before going out (for a night out) last week, and I decided to do a Nicola-inspired clothing and make-up look.
H&M dress, Office shoes
I chose to wear this dress because the colour and pattern are similar to the shorts/knickers Nicola wears in the Beat of My Drum video. The flippy shape is kind of like the dress/top she wears in the Lucky Day video too, where she's also wearing trainers, so I decided to go with flat shoes too. I chose brogues though because I feel that trainers with dresses can look a bit too debut-album-era Lily Allen...
I did my hair in a centre(ish) parting for once rather than having a side fringe, and did a turquoise eye inspired by the Beat of my Drum video. It's brighter than the one Nicola wears, but that's because I don't have any turquoise cream eyeshadow (although now I'm tempted to get
this Illamasqua one
and have another go at this look.)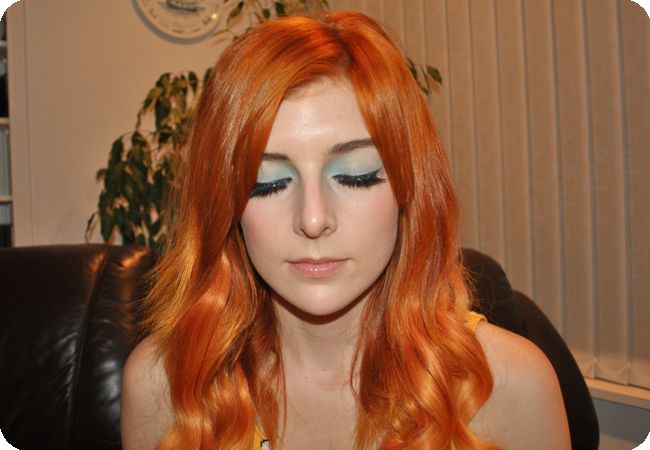 I'm also wearing false eyelashes similar to the flicked-out-at-the-edges ones Nicola always wears (like her
Eyelure Girls Aloud lashes
) Mine are
these ones
from EyelashesDirect.co.uk, which is an amazing website if you wear falsies! Finished off with matte pale skin, straighter, darker eyebrows than normal, neutral lipgloss and subtle peachy cheeks.
MAC Mineralise Satinfinish foundation in NC15, MAC MSF Natural in Light, Bourjois Healthy Mix concealer in 51, Eyeshadow from Sleek Mediterranean collection palette, E.L.F. cream eyeliner, Cosmetics a la Carte Divine Lash mascara, E.L.F. Brow Kit in Dark, Missguided Lipgloss in Missled*, Maybelline Dream Touch Blush in Peach
I'm going to end this post now before you all think I've become some crazy obsessive Nicola Roberts fan who is going to end up stalking her and trying to steal her life, but in case anyone is still wondering what the blinking hell I'm going on about, here are the Beat of my Drum and Lucky Day videos for you to have a look for yourself.
Let
Very.co.uk
help you perfect your Nicola Roberts looks with their
fashion
ranges created by pop starlettes such as Diana Vickers.