I thought I'd break up the Look Show posts a bit, so here's a new "featured blogger" post, this time with the wonderful Heather from
Effiesmakeupbox
! I love her blog because she has great style, (I always want to steal all of her clothes) and does amazing DIYs too. Here's the interview I did with her...
How would you describe your blog?
'Effiesmakeupbox' is just a place for me to share my personal style, my love for make-up & showcase my fashion DIY & nail art abilities & anything else that interests me really. Like most people say, it's going to be great to show my kids one day, they can have a good old laugh at my hairstyles & fashion choices! :)
Where does your blog name come from?
This is always the most awkward question to answer as it's so stupid. It was basically a spelling mistake. I decided to set up a YouTube account after I finished make-up school so that I could upload a few videos etc. I was struggling to think of a YT name & ended up settling with 'heffiesmakeupbox' as I quite often got called heffie at school haha but I mistyped & wrote 'effie' instead of 'heffie'. You get the picture, I'm the worlds biggest 'typeoer' (if that is even a word aha) I didn't think much of it at the time as I didn't really expect much from my YouTube channel, but I stuck with it & ended up using it as my blog name too.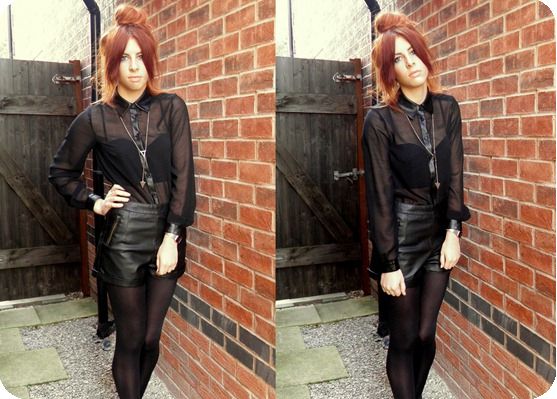 How would you describe your style and what are the key elements of it?
I find it hard to describe my style. It's just 'me' haha, that's so cheesy. I just wear what I like. I don't try to fit in to a certain genre but I suppose my style is pretty grungy at the moment. I like leather, denim, sheer fabrics, chunky knits, studs, galaxy prints, animal prints, faux fur, anything black or grey & lashings of silver jewellery. You can't really go wrong with a pair of Levi cut off's, a chunky knit & leather jacket/boots in my books.
Who are your style inspirations?
Oh gosh, like many others I love Miss Chungs' style & Nicole Richie always looks amazing but Gillian Zinser is definitely my girl crush of the moment! Who doesn't want to be her?! She has THE most perfect wardorbe!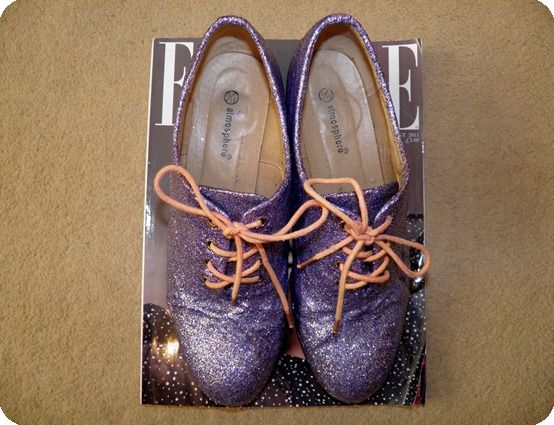 Heather's DIY glitter brogues(!!!)
Where are your favourite places to shop?
I would say that over 70% of my wardrobe is from New Look, not only because I worked there for almost 5 years & the discount was amazing, but because they are getting really good at being 'on trend' & they are pretty good value for money too! As are H&M, their knits are THE BEST & again, great value for money! I would love to shop at Topshop more because they have the most divine boots in stock at the moment but alas, I can't afford their rising prices which is a shame because their A/W stock looks fantastic! And who doesn't love Primark? ;)
What trends are you looking forward to trying out this autumn?
I really like the whole 'mod' trend that seems to be floating around all the magazines & catwalks at the moment, I'm not really into the whole 'block colour' trend but I do like all the monochrome colour blocking that I have seen & I'm sure it will be reflected in my outfits sooner or later. Also, I'm loving metalics! Silver especially!
What's on your wishlist at the moment?
Leather tote bag, Alexander Wang studded bucket bag, grey leather jacket, more chunky knitwear... the list goes on & on...
What's the best thing about blogging?
'Meeting' other bloggers sharing my outfits, nails, DIY's etc with my readers & reading other blogs. I am seriously so gutted I have never been to a blogger meet up or any blogging events. :( I really need to meet some bloggers in real life!

Another DIY - dip-dyed studded shorts
You do a lot of cool DIYs, where do you get your ideas from?
I don't know really. I usually just start by cutting up my clothes & then see what happens ahha. DIY'ing is such a great way to spruce up old clothes & make them more 'on trend' without spending too much money. It's amazing what a few studs, glitter, fabric dye & a pair of scissors can do! :)
Which are your favourite blogs?
I read so many blogs so this is going to be really hard to choose a handful
& Fritha @ Fish tank fashion for her awesome outfits, awesome nail art, awesome hair, just down right awesomeness!
I didn't tell her to put that last one, honest! If you haven't read Heather's blog yet, then make sure you pop across and do it asap!
In the spirit of sharing favourite blogs, which are your favourites at the moment? Let me know in the comments so I can check them out!