At last down to posting what the Look Show experience was all about, the show itself! The show was divided into sections by retailer, with an introduction video for each one playing on the big screen at the end of the catwalk, before a procession of models clad head-to-toe in clothes from that shop came stomping out. Because there were so many different shops involved I'm splitting this over two posts so you don't get too overloaded (and that's even after I've had to skip Next, Monsoon and Marks & Spencers because all my photos are too blurry for those collections :( - catwalk photography is hard!!!) If you like the look of anything, you can shop the looks through the
Look magazine website
(how many looks can you get in one sentence!) but I'm also linking anything I mention specifically (if I can find the item online) to make things a bit quicker/easier for you.
So let's begin with:
Warehouse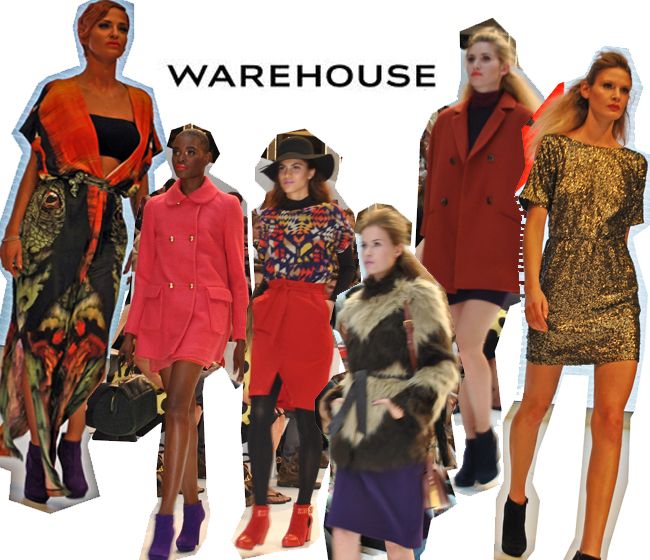 The Warehouse section opened the show, with Sarah Harding storming the catwalk in an orange and printed dress. It's a bit of a cliché phrase, but she was
fierce
, there's no better way to describe it. Warehouse isn't normally somewhere I'd think to look whilst shopping, but after seeing the Look Show I'll definitely be popping in on my next shopping trip. It wasn't as "themed" as a lot of the other shops' sections, but that didn't detract from it as there were some amazing pieces in there. The
gold dress
is incredible, with cut-out shoulder detailing, and I love the chevron patterned fur coat, it stands out from all the other faux furs around. The floppy wide-brimmed hat was just the first of many similar styles to crop up during the show.
Urban Outfitters
I was slightly surprised to see Urban Outfitters in the show. I think it might be because of it's slightly quirky, American college aesthetic that I don't usually lump it in with other "high street" shops. I'm glad it was included though, as it was one of my favourite sections.
I'm sad that I can't justify buying another winter coat, because the UO section was packed with brilliant ones. I especially love the
navy peacoat with the fur collar and cuffs
(and the nightwear-inspired playsuit worn underneath!) I'm pretty sure I can justify the expense of the slightly crazy
fringed socks
you can see on the models on the far left and far right in the image above. They come in three colours, which to choose?
Dorothy Perkins
The colour palette at Dorothy Perkins was very "autumnal", with rich orange and brown shades, punctuated with some bright, bright blue. The cape with the faux fur collar was one of my favourite pieces, along with the white tailored blazer with the black lapels, which unfortunately came out blurry in my pictures, but you may recognise as the one
I wore recently
in a post, (to style up my creepy Evian baby t-shirt!) As you will see, the show was full of white and black blazers, so I snapped this one up the day after. I also think the
"birds on a wire" top
would be great for adding a bit of interest to workwear. The
cobalt suit jacket
too. When I was in sixth-form and had a "smart office wear" dress code I used to get a lot of my clothes from Dorothy Perkins. Their pieces are a bit smarter than a lot of the rest of the high-street, but are still fashionable, which is great.
Oasis
Oasis to me is pretty dresses and floral prints, so I was pleasantly surprised to find that there were some tougher elements to their AW11 collection alongside the more girly pieces. The contrast-sleeve coat looks like it's walked straight out of a designer runway show, and the oversized red coat is just a perfect shape and colour. I reckon the magenta lace skater dress will be a total sell out too. And look, another floppy felt hat. I'm telling you, invest in one now!
Mango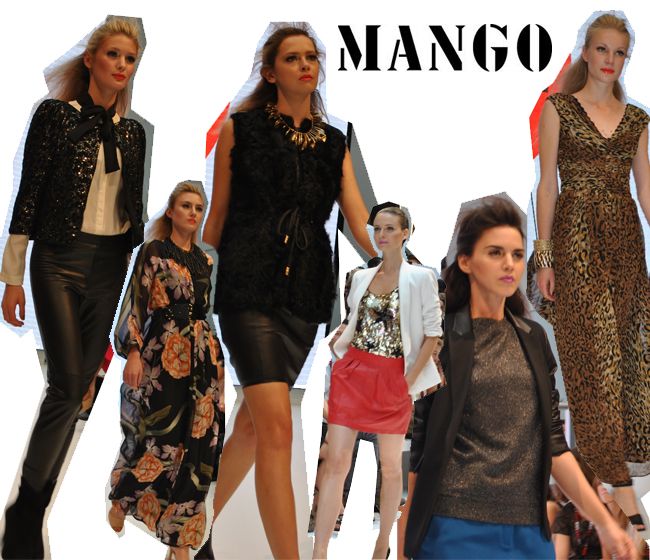 This was another one of my favourite collections. Lots of black, sparkle, fur and leather - perfect. Another
white blazer
(get one now before they sell out,) and that
leopard print maxi dress
is an item I would love in my wardrobe. Unfortunately I don't really go to a lot of places that would warrant wearing such a dress. A great shame, (but good for my bank balance I guess!)
Halfway through the show we were treated to an amazing performance by Dionne Bromfield. That girl has one hell of a voice!
She sang her song
"Yeah Right"
whilst walking up and down the catwalk in absolutely massive heels. She's got such a huge voice and so much stage presence, it's hard to believe she's only 15!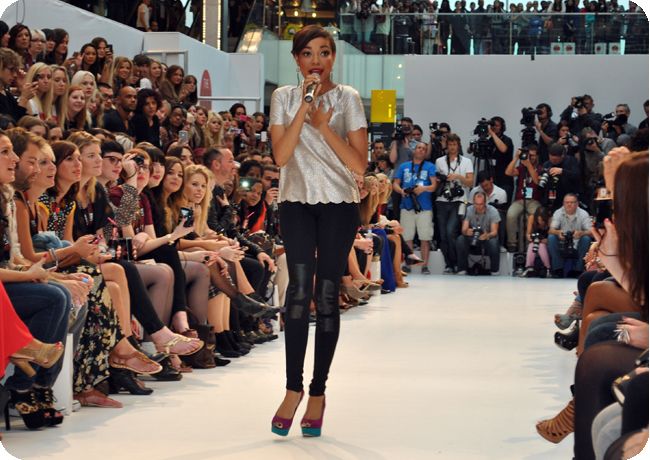 A
prize
internet high-five if you can spot the bloggers in this picture.
Check back soon for part 2 of the collections at the Look Show. What's your favourite so far?