The second part of my review of the catwalk looks from the Look Show. See part one
here.
New Look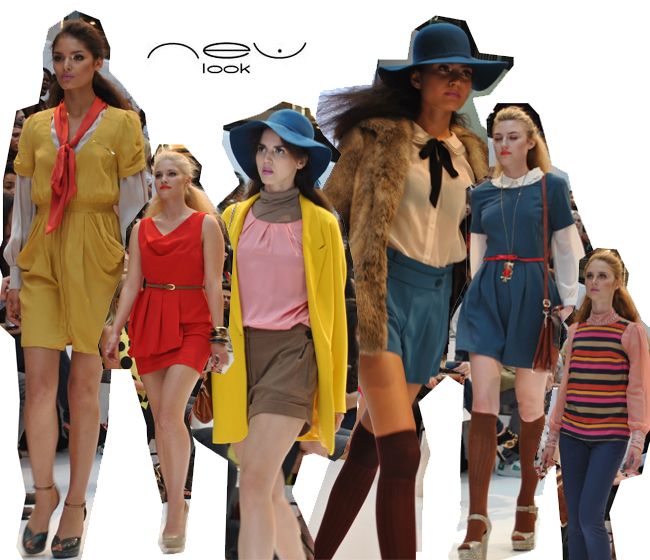 There was more 70s styling at
New Look
, with lots of
blouses
and
those
floppy hats (which
come in four colours.
) Layering long sleeves under dresses and sleeveless tops was a trend seen throughout the whole Look Show, and you can see some great examples above. I love the fur coat too, it's a great colour.
Forever 21
Forever 21
was another less single-trend-driven section, but this just represents the huuuuge range of stock they have, covering pretty much every trend you can think of. As you can see, there are lots of interesting prints at F21 this AW, and different textures too. I especially loved the fluffy jumper paired with the
leather skirt.
The day after the Look Show in fact,
Selina
and I both ended up buying a similar furry jumper each (such is the powerful shopping influence of the Look Show!)
H&M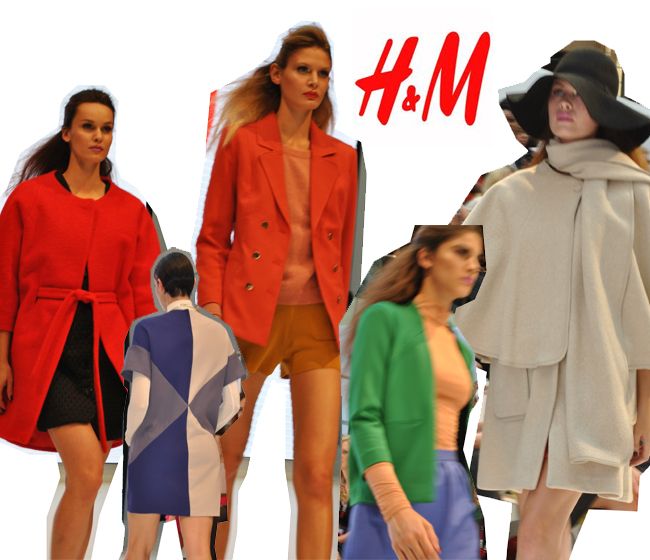 The
H&M
catwalk was all about the outerwear. There were brightly coloured jackets and the coats, as you can see, had cape-like stylings, which I thought were great. Capes are one of those things that I'd like to have, but that I think would be a bit tricky to pull off. The
cream cape/scarf coat
is especially lovely and would be a great "investment" piece (if only I had the £99.99 to spare!) Again you can see long-sleeved tops layered under dresses, which is a look I found a bit strange at first, but is now really growing on me. Oh, and of course, the floppy
wide-brimmed hat.
River Island
River Island
is turning out some of my favourite pieces this season, and the Look Show looks were no exception. The outfit with the white blazer with black lapels, sheer black shirt and leather trousers was my favourite, followed by the super cute
pink lace shift dress
(it even has diamantés around the collar.) How cool is the little spherical clutch bag too?! I'm going to hunt that down in store, and if I can fit my phone/keys/debit card in it then I shall make it mine!
Miss Selfridge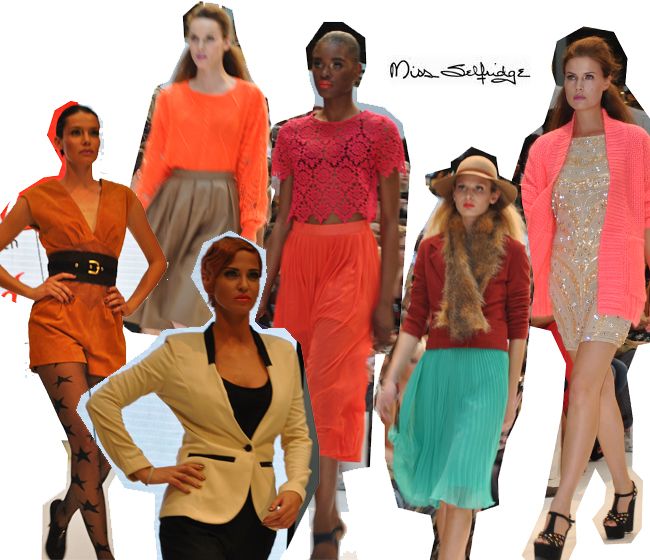 Finally,
Miss Selfridge
. Floppy hat count: 6.
This isn't somewhere I normally think of for "day wear", as I usually associate Miss S with "going out" dresses, so I was pleasantly surprised by the range of knitwear they showed. The bright colours are again something I wouldn't normally think of in association with the brand, but they look great, so I'll definitely be visiting the Miss Selfridge on Oxford Street sometime soon (the branch in Westfield Stratford City was quite small and I didn't see any of the bright knitwear there.) There was lots of leather too, with the orange/brown suede playsuit and
brown knee-length PU skirt
(very similar to the one in the F21 section. I spy a trend.) I'm also very taken with the pleated
mint/jade knee-length skirt.
Sarah Harding then closed the show in a
cream and black blazer
and suddenly it was all over *sob*.
I loved every minute of sitting front row at the Look Show - it was such a fantastic experience to be a part of. And the best bit was that unlike the season-ahead designer shows, there was no having to wait six months before you can get your hands on the clothes! (Not that I buy designer clothes, but you get the idea!) We were all up bright an early the next day (the winners all stayed in the Premier Inn handily located IN Westfield,) to hit the shops and get our hands on what we'd seen in the show. I'll show you all my Westfield "haul" in my next post!
So, now you've seen all the looks, which is your favourite? Seen any pieces you'll be rushing out to buy? Remember you can shop all the looks through the
Look magazine website.