This is my final post on the Look Show. I can't believe after all the build up that it came and went so quickly! It was two whole weeks ago now.
As part of our final five prize, we not only got to sit front row at the show, but also got a whole host of other lovely goodies.
We received a very generous
Westfield Stratford City
voucher, which I spent on the day after the Look Show. As I've previously mentioned, we were put up in
Premier Inn
for the night so we could get up bright and early on Sunday and hit the shops (after making full use of the all-you-can-eat breakfast buffet first that is!)
Here's (most of) what I bought: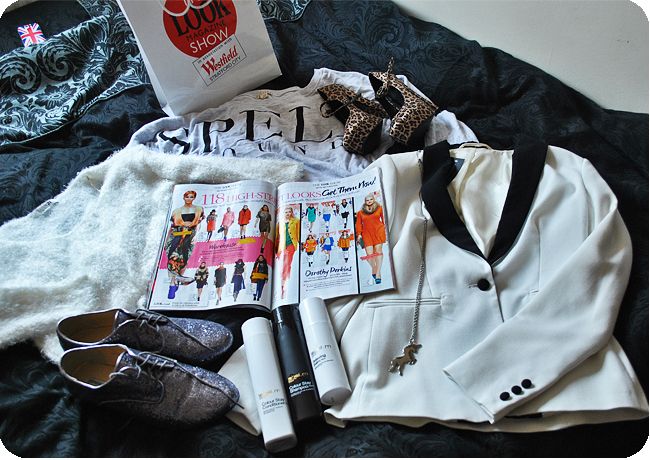 Firstly, there was a brilliant goody bag which all the show attendees received, chock-a-block with products. I won't show you all of that though as I'm sure tons of other bloggers will have already.
The fluffy white jumper, grey sweatshirt, leopard print heels and unicorn necklace are all from Forever 21.
Selina
and I must have spent well over an hour in there and tried on loads of clothes. The jumper is so 90s, it wouldn't look out of place in Clueless! I really like the shape of the
grey sweatshirt
, it's slightly cropped and has batwing sleeves. It says "Spellbound" on the front, and I thought it looked quite Wildfox-y. The
leopard mary jane heels
are amazing. Selina persuaded me to try them on as she has a pair the same shape in black and she loves them. I can't wait to wear these out! They were a bargain at £21.75 too. I was really pleased to find the unicorn necklace, as I'd loved a similar one
Gem
won at the Brum blogger meet. I think it was only about £3.15! F21 is so good for inexpensive jewellery.
The white blazer is from Dorothy Perkins. It was originally £49 and I'd been looking at it for ages before the Look Show deliberating about getting it. After seeing it in the Look Show and having the voucher to spend I decided I definitely had to get it, and even luckier for me Dotty Ps were doing a 20% student discount, so I got a tenner off! I think I'll be wearing this to uni with skinny jeans and my
heeled chelsea boots.
The glittery brogues are from Primark. I think they were £12 or £14. I also bought a black pea coat with a detachable fur collar from there, but I lent it to a friend earlier in the week so I don't have it to photograph right now. I also got some uninteresting but necessary opaque tights.
I also used my voucher to treat myself to lunch at Yo! Sushi, because it's normally a bit out of my student price range!
The Label M products are from
Toni and Guy
, where we were treated to a cut and blow dry and a goody bag of products. I also paid for an additional conditioning treatment, which left my stressed-out hair feeling a lot lot better. The cut meant I've also
finally
got all of the bleached blonde hair grown out, so my hair should look a lot healthier now!
Other parts of the prize were two tickets for
Vue Cinemas
and bowling at
All Star Lanes
, both of which I'm looking forward to as I haven't redeemed them yet. We also all went for a yummy meal at
Bumpkin
. I'd highly recommend it, the food is all British and seasonal and tasted so so good!
Finally I'd like to say a huuuuuge thank you to
Look Magazine
and especially to
Lara Lain
for making my Look Show experience so great! I'm already hoping that I'll win tickets for next year so I can go again!
P.S. If you haven't already, make sure you check out the other four winner's blogs:
Sarah
,
Sarah
,
Cassie
and
Jade
.