You may have seen me tweeting this week that I got a haircut. I was walking around Covent Garden on Monday afternoon when a woman came running up to me and asked if I wanted to be a hair model. I'd been considering getting a new style for a while now, but wimped out and just got a trim with the Toni and Guy haircut I won as part of my Look Show prize. On Monday morning I'd been on the phone to my Dad saying I was thinking of getting an asymmetric cut, so when the chance to get a free haircut presented itself I thought it must be fate, and I should go for it. So, here's my new hair...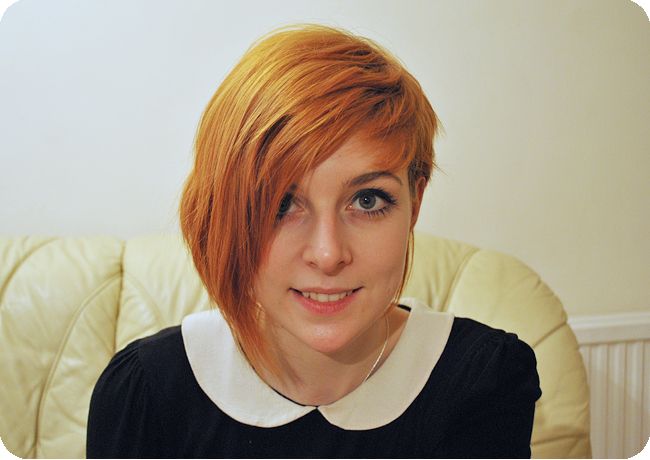 It's a big change from before but I really like it. I'm still getting used to it though, I sometimes forget it's short until I touch my hair and most of it is missing!
The salon was called
Òra
, and I'd highly recommend it. The staff are all friendly (in a genuine way, no fake being nice like a lot of hairdressers,) and the atmosphere was really relaxed. Even though I was being a hair model, which usually means you get no say in what they do to you, I got asked what I'd like and what I thought of the stylist's ideas. My stylist also worked with the natural wave/curl in my hair, which means my haircut will still work if I don't want to use straighteners every day, which is nice, as I swear a lot of hairdressers are afraid of curly hair and can't do a decent haircut unless hair is straight. So, all in all,
Òra
is somewhere I'd suggest if you're looking for a good London hairdresser.