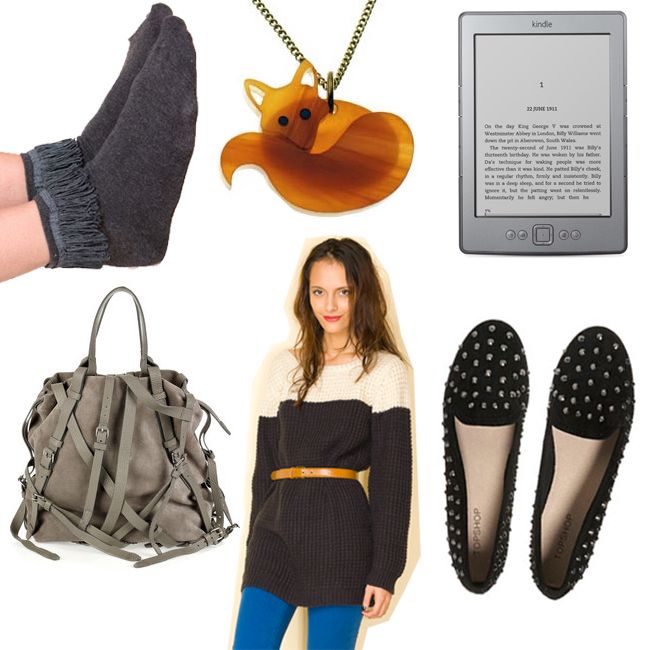 Urban Outfitters fringed ankle socks
- I've been after these for a few weeks now, ever since seeing them in
the Look Show.
I could DIY them, but by the time I've bought socks and fringing I probably may as well just buy the UO ones for £8.
Tatty Devine fox necklace
- Isn't this necklace just the cutest!? I've been looking at more and more woodland animal themed accessories lately. I think it's the effect of the Mulberry AW11 advertising. At £24 (from Accessories Online,) it's not cheap, but I'd wear it a lot I think.
Kindle
- I know the Kindle is the "anti-book", and supposed "real" fans of books sneer at anyone who owns one, but meh, I still want one. I have hardly any space in my room at uni this year, so I can't be buying loads of physical books as I have nowhere to put them. I also already have to carry around loads of books etc for uni, so this would mean I could read for fun without having to lug around a load of extra weight. The new Kindle is only £89, and I already use my Kindle app on my phone a lot, so I know I'd use it, so I think this might be mine by the end of the month!
Topshop studded slipper loafers - I love the old-fashioned slipper shaped loafers around at the moment. This studded pair are just perfect! I really don't need any more shoes though!
Motel Louise jumper
- I want everything from Motel at the moment! I love the sheer tartan shirt I got from them recently and I think this oversized jumper would be a great addition to my autumn/winter wardrobe too. I really want some more chunky knits, especially long ones but most places only seem to be doing cropped knits at the moment, so this jumper is perfect!
Alexander Wang Kirsten - I highly doubt I'll ever afford a bag this expensive (it's over £500!) but hey, a girl can dream. I love all of the straps! I've been looking at
this copy on eBay
, but it isn't a patch on the original. If anyone sees a good look-a-like anywhere, let me know!
What's on your wishlist for October? Have you bought everything you want for AW yet?