Since the Miu Miu glitter and suede heeled ankle boots have been popping up anywhere and everywhere, I've developed a slight hankering for something similarly sparkly for my own feet. Obviously at £555 I'm not going to be getting the real thing any time soon, but there are some good "inspired by" versions around.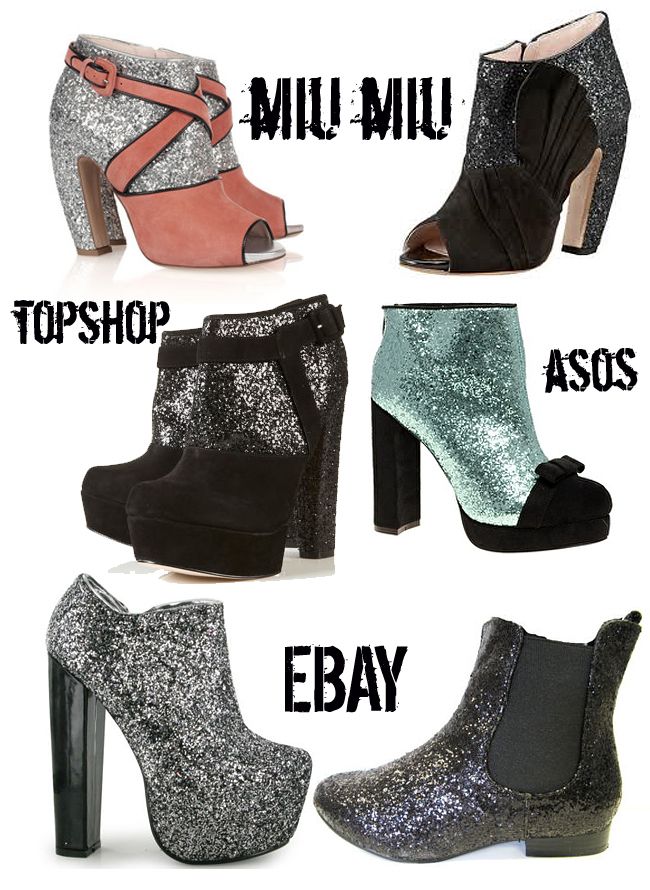 The ASOS and Topshop versions (weirdly both called Astrid) are great, especially the Topshop ones, but at £50 and £80 respectively still a bit much for what isn't really a day-to-day shoe.
So, I thought I'd look to the home of cheap, designer
knock off
inspired shoes, eBay! I couldn't find anything huuugely similar, but a couple of pairs still caught my eye. The
heeled platform boots
are one of those things that are so OTT they're amazing. They're less than £30 and they come in four colours too. I think the black and silver version pictured is going to be my Christmas party shoe this year! The
flat glitter chelsea boots
may not be anything like the Miu Mius but they're so great I couldn't not include them!
What do you all think about glittery shoes? Love them, or are they too OTT? I think I've been bitten by the glitter bug!