This is a bit of a lazy post I'm afraid, but I'm in the middle of coursework and exams so I don't have much spare time for blogging! I'll be back in a proper routine once term starts again properly next week though.
I'm on a self-imposed spending ban for January to make up for the Christmas overspend and to try and save some pennies, but I've still as ever got a wishlist! I figure if these things are all still available next month then maybe I can allow myself a couple of them.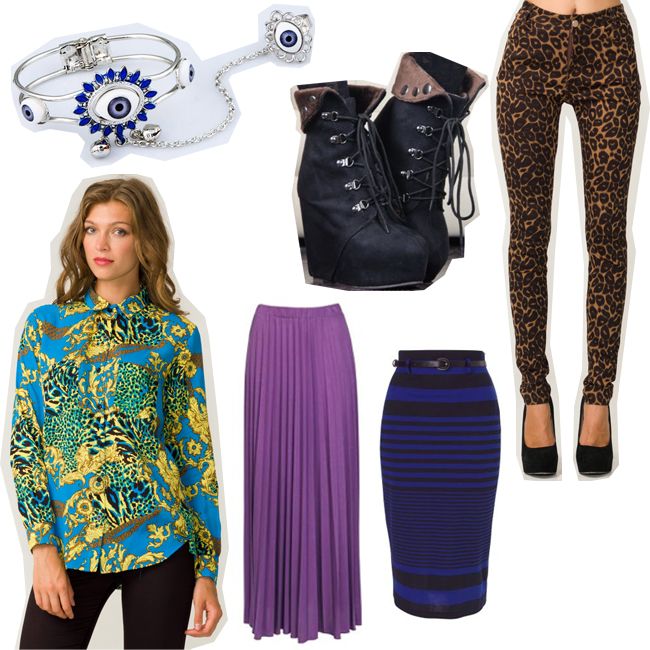 I first saw this amazing
eye bracelet and ring combo
on
peachesandnothing
, (check it out, Georgina has great personal style,) and it immediately went on my mental wish list (and my eBay watch list!) It's less than £3.50 too which is a total bargain.
I think these
wedge boots
from eBay are amazing, but unfortunately as with most shoes on eBay, they don't come big enough for my size 7 feet :( If anyone sees them in the right size for me during their eBay travels, do let me know!
The two skirts are from
Clothing at Tesco.
I saw the
black and blue striped
one at the F+F SS12 preview event and knew I had to make it mine. It's nicer in real life than the picture. I'll probably end up getting the
purple pleated maxi skirt
too in an attempt to add some colour to my overwhelmingly black wardrobe for spring. It also comes in red and blue (and black) but I think the purple is the prettiest. I'd probably still wear it with Docs though...
I am loving
Motel Rocks
right now. I
already have
the
black and white striped Jordan jeans
and now I really want them in
leopard print
too. The
blue baroque print shirt
is so bad it's good, and I think it would be really fun to style.
What's on your wishlist this month guys? Are you saving like me or have you got money to burn? Let me know!