ASOS Jacket
Missguided dress*
ASOS socks
Underground creepers via Office
This season was my first ever London Fashion Week. I've been wanting to go for a couple of years now, but I was either on my year abroad, or busy doing something else (like the Look Show last season.) This is what I wore on day 1 on Friday. I didn't have any shows that day as unfortunately the ones I'd been offered tickets for were in the afternoon when I had to be in lectures. Handily though, Somerset House is the building next door to my uni (in fact, my uni actually owns part of Somerset House,) so I could hang around until the last minute before having to leave for my "Brechtian Cinema and Political Modernism" class. (My degree is so far removed from the fashion world!)
It was weird having people ask to take my picture, I wasn't expecting it as I'm not a super-duper fashionable type. It seems that everyone takes pictures of everyone else at Fashion Week though! I got to see some of my favourite blogger friends, and meet a couple of new faces.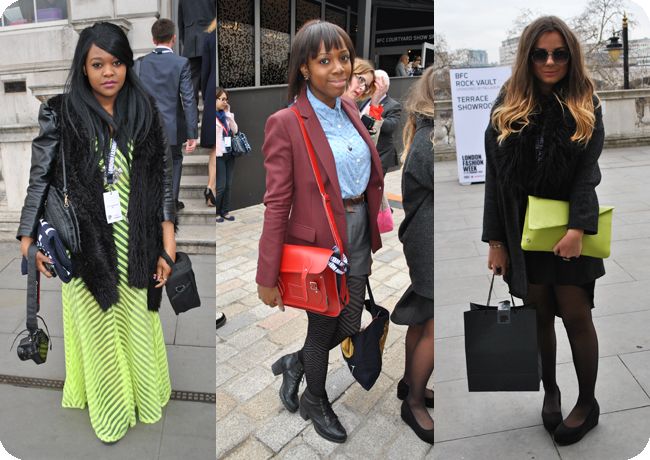 L-R Ngoni from
NRC
- I loved her neon maxi. We were shoe twins for the day, both wearing our creepers.
Kristabel from
I Want You To Know
- Kristabel is one of my very favourite bloggers and I'm happy to call her a friend too. I'm jealous of her
Zatchel
(which she told us survived getting stuck outside the doors on the underground!)
Lily from
LLYMLRS
- More neon - I'm lusting after her
Monki
clutch. It must be like a Tardis inside as Lily managed to fit three pairs of sunglasses in there as well as all her invites and normal bag contents!
More LFW outfits and information about shows and designers to come!
P.S. Big thanks to
Ngoni
for taking my picture for this post!