Ok, so a) I never do "celeb" posts like this and b) this is wayyyy late in terms of red carpet coverage as the Costume Institute Gala aka Met Ball was aeons ago now (well, four days,but that is a long time in fashion land it would seem) but SOD IT I say, I had an urge to give my two cents on what people were wearing and it's my blog and I can do what I like *thumb to nose waggle-y fingers face* (Also, Kirsty from
Forty Four Sunsets
always does great, funny red carpet round-ups, and I wanted to have a go too. Not that mine will be anywhere near as good as hers are.)
So, without further ado...
Best Dressed


Emma Stone in Lanvin with Alber Elbaz
Look how adorable Emma looks! I am super jealous of how she can pull off that bright red dress with red hair and really pale skin. Red looks pretty appalling on me at the best of times, making me look crazily pink, and was even more of a no-no when I had orange-y hair. Also, isn't the picture of her and Alber not just the cutest thing you ever did see? He's like a human cartoon character.
Shouldn't work but it does and I love it
Lana Del Rey in Altuzarra - At first I was like "wtf why are you wearing a cape you silly fool, you look like Gandalf", but then I was like "actually what am I saying, this is amazing and Gandalf is my new fashion icon!" The dress on its own, sparkly pretty as it is, would probably be a bit blah, but whack on a cape and now you're talking. From this somewhat nonsensical rambling you're currently reading, I'm sure it's pretty clear that I can't put my finger on exactly why I like this look so much, but I do, so that's that.
Scarlett Johansson in Dolce & Gabbana - Firstly, let me say that I never used to like Scarlett Johansson AT ALL. I think it's because I really dislike that overtly booby sexy thing (which is why I really don't rate Eva Mendes either.) And I HATED her in Iron Man 2, and was kinda pissed off she was going to be in the Avengers. But then recently she's grown on me. And I saw the Avengers (it was awesome, and I refuse to call it Avengers Assemble because that is a rubbish title) and she was great in it, and then she goes and wears this to the Met Gala. It really shouldn't work, with all that tulle poking out, almost like there's another dress under there, being smothered by the tight beadiness on top, but it just does. It looks brilliant and really suits Scarlett. I like her bed head hairdo too,
*Yawn* - Most boringly dressed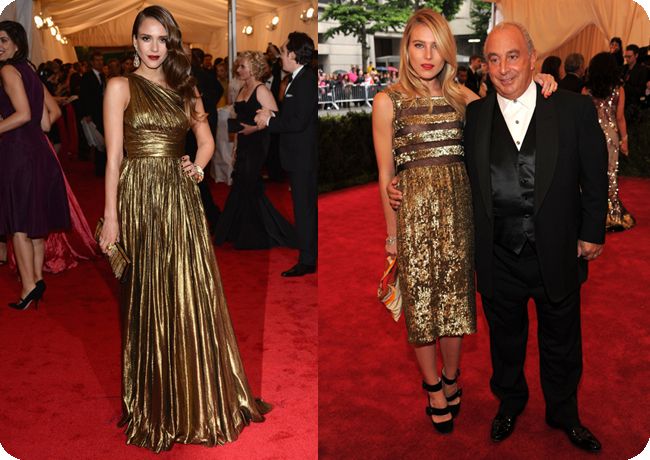 Jessica Alba in Michael Kors - Don't get me wrong, this is a nice dress, but the Grecian look is SO safe and predictable that it's totally boring me. Thumbs down.
Dree Hemingway in Topshop (with Sir Philip Green, natch) - Topshop? No, you don't say. I'd never have guessed! C'mon Phil, if you want to try and prove that Toppers can stand its ground against the big boys of fashion design, don't turn up with a date looking like this. It is so obviously highstreet it's almost painful to look at in the same image gallery as all the amazing designer dresses. The weird thing is, Topshop can do some amazing looking frocks that look far more expensive than this (quite frankly bizarre) dress. Why not wear one of those?
Worst Dressed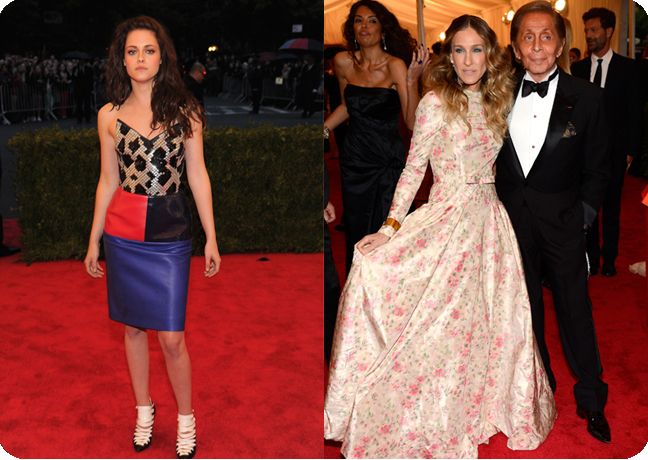 Kristen Stewart in Balenciaga - Normally K Stew's "I'm bored as f**k" face is enough to ruin the best of dresses (seriously, if you hate your life so much, just sod off and leave us all in peace) but I think I'd look pretty unhappy if I was dressed in this. The blue section cuts her off at the widest part, making her look out of proportion, it's a weird length and seems to hang strangely. Also, those shoes are pretty grim. But still, she could at least try and crack a smile. Her lips are actually turned DOWNWARDS for goodness' sakes!
SJP in Valentino - This is too easy to tear holes in, so easy I wasn't going to include it. But then I saw the woman in the top left hand of the picture and it had to be blogged.
Fancy Dress
I couldn't help but notice as I was looking through the pictures of the Gala, that a few attendees seemed to have taken the "costume" part of the event a bit too literally...
Kirsten Dunst as Miss Marple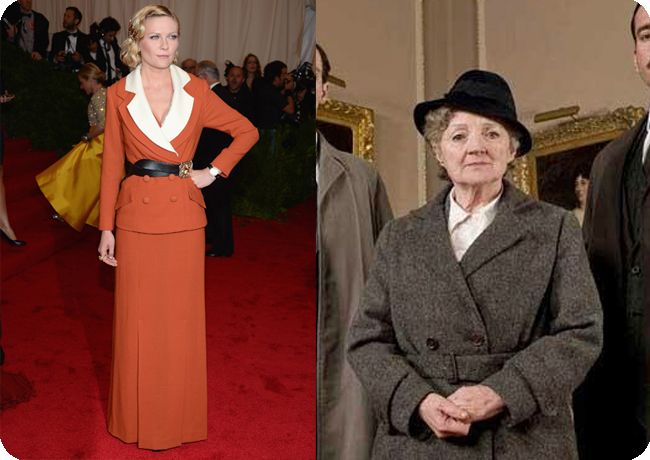 Chanel Iman as an Ordnance Survey Map

and finally Cate Blanchett as a Shire Horse's Foot