Last week I took a break from revision and headed along to the
eBay Fashion Outlet
bloggers event to take a look at their new Spring/Summer range. I love eBay, I'm a bit of an addict, but bidding can be frustrating especially when you get outbid at the very last second for an item you've set your heart on. eBay Fashion Outlet takes that frustration out of the pictured. It's basically like a normal online shop, but offers a wide range of brands, and everything is discounted (hence the "outlet" part.)
Anyhow, the event itself was so much fun. We were invited to rummage through the clothes and accessories - some of them one-off vintage pieces the Fashion team had sourced from the "normal" eBay site - and style up an outfit. There was a model on hand for those who were a bit shy/had picked out teeny sample sized pieces, but a lot of bloggers (myself included) decided to style themselves. Then we had pictures taken by a professional photographer. I must say, I haven't really got the "posing for photos" thing down yet, despite having been blogging for such a long time, and the vast majority of my pictures looked extremely awkward. I need to practise smiling in a mirror! Here are the best of the bunch: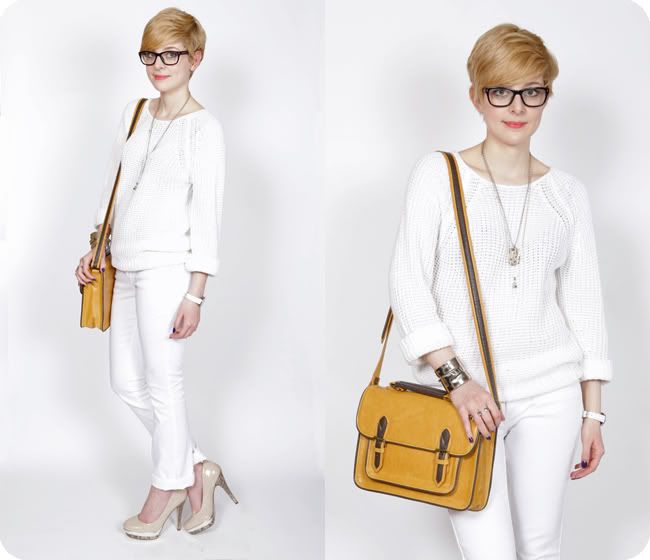 All items available at the eBay Fashion Outlet except the necklaces and watch which are my own.
(I can't help but feel these photos are a bit Awkward School Pictures...)
I saw the jumper - which is from Joe Browns - hanging on the rail of clothes and immediately pounced on it. It proved to be one of the most popular pieces there in the end. Then I saw the white jeans and thought I'd try a head-to-toe white outfit, the complete opposite of my usual uniform of all black! It was fun to see the same pieces being used in completely different outfits that showed each blogger's individual style, you can the rest of the outfits
here.
As well as getting to play with clothes, (and eat yummy food and drink lots of free champagne!), it was lovely to meet some new bloggers, including
Fleur
(who has written a post about the event with some great behind the scenes pictures
here
),
Sarah
,
Natalie
and another
Sarah
(it turns out we've been at the same events for ages now but never actually met!)
What do you think of my all white outfit? I'm not sure if it's something I'd wear in real life where I'm sure I'd get grubby in less than 5 minutes, but it was fun to play dress-up in!