So that amazing thing that is the
Motel Rocks Sale
is currently on, with many bargains to be had as it's up to 70% off a ton of their amazing clothes. Alas I am broker than a broke thing after having to part with an eye-watering amount of money earlier this week to pay the deposit and first month's rent on my new flat (more on that soon.)
Still, I can still window shop (what's the online shopping equivalent of window shopping?), and I've picked out some of my favourite pieces that I wish I could get from the sale!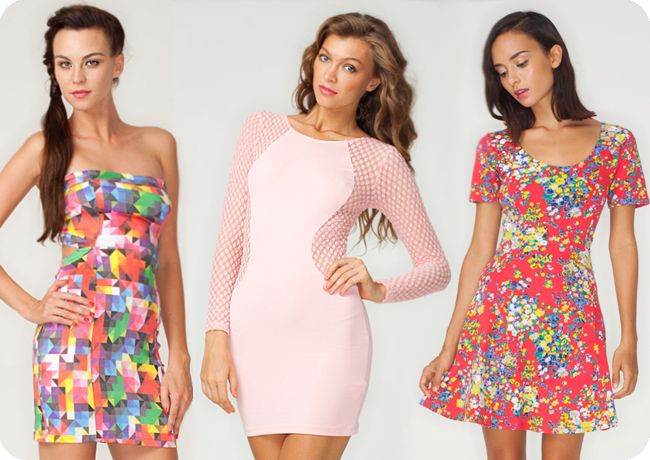 Zahara Backless Bodycon Dress in Kaleidoscope Print
(
£48
£23) - This is a pretty impractical dress to be perfectly honest, it's strapless and practically backless, so it is only for those small of boob, but gosh, isn't the print amazing! There are only two kaleidoscope print items on the Motel website, this and another "going out" type dress, so please Motel, make some more clothes in this. A shirt or a skirt would be brilliant and I would buy them (once I am financially recovered that is.)
Goldie Bodycon Dress in Dusky Pink Hexagon Mesh
(
£48
£23) - Again, not the easiest dress to wear, and I especially should be staying away from all things bodycon after my pizza and pasta-filled holiday to Italy last week, but it's so lovely! What with my orange hair and all, baby pink probably isn't really my colour, but give me a skin-coloured bra and a couple of weeks at the gym and I'd happily wear this on a night out.
Indah Scoop Neck Skater Dress in Red Ditsy Floral Print
(
£32
£15)- Far more wearable, but none the less pretty for it. A bargain at £15 too. This would be a really versatile work wear or weekend dress. Yes, I've become one of those dull people who constantly evaluates clothing for whether it is work-appropriate or not. And I haven't even started my new job yet!
So there we have it, my top 3
Motel Rocks Sale
items, none of which I can afford. Have you got your eye on anything in the sale or grabbed a bargain?
P.S. If nothing in the sale takes your fancy, you can get 15% off full-price items with the discount code TOPBLOG15 :)
Images via MotelRocks.com.