Sweatshirt - New Look
Jeans - H&M
Shoes - George at Asda
A casual work outfit from yesterday. Jeans are allowed where I work, but I'm trying to limit how often I wear them all the same. Friday felt like an acceptable day to dress down a little though.
I'm loving my new job, though at the moment it isn't so much "work", as I'm still being trained. There are lots of systems and processes to learn, and where I'm working, it's vital to have a really good understanding of the company as a whole so you can do your job properly. I really want to tell you guys what I'm doing and where! I've had a little meeting about my blogging with HR to check that there aren't going to be any issues with working with other brands etc, so hopefully they'll get back to me soon and let me know what I can say on here! If you're really nosy though, I might tell you on
Twitter
if you ask!
31 day fashion blogger challenge
15th. Your favourite polish and your nail varnish collection.
My nail polish is currently being stored in empty Glossyboxes inside the
new chest of drawers I built this week.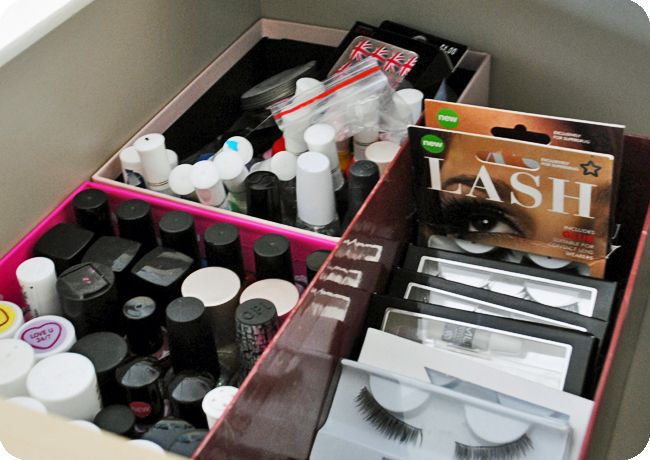 I'm planning on getting some new storage once I've been paid and I have my eye on
this nail varnish display stand
that I saw
Aishling
had bought, as it would be perfect for keeping my polishes tidy whilst being able to see what colours I have more easily.
As for my favourite nail polish, it has got to be the Eyeko Cosmic Polish.
It's difficult to photograph, but it has really fine holographic glitter in it that makes it look just like outer space. Unfortunately Eyeko decided to rebrand and only sell eyeliner and overpriced mascara now (a crazy decision in my opinion!), and my bottle of Cosmic Polish is almost empty :(