You may have noticed I've been a bit absent from my blog for a couple of weeks. This is because I moved house two weeks ago and have been really busy with that/haven't had internet.
I've moved out of both my uni house in London and my "home" house in the Midlands to
Watford
. Watford is in Hertfordshire, but it's only 18 miles outside of London, it takes 15 minutes on the train into Euston and we even have a tube station and count as Zone 9, so I'm half kidding myself that I'm still living in lovely London! This move is kind of a big deal for a few reasons. Firstly, it's the first time I've moved "properly" away from home, i.e. not for uni, secondly, my boyfriend and I have moved in together for (kind of)* the first time and lastly, the reason I've moved here is because I've got a proper grown-up full time career-type job here, which I start tomorrow, eeeek! I really want to tell you guys what the job is (and some of you may have seen the answer on twitter where I've told people who have asked), but I want to check with them about my blogging and what it's ok to say etcetc as obviously I don't want to say anything I shouldn't and jeopardise my position! What I can say is that it's a position on the buying and merchandising graduate scheme for a large, international retailer, that sells clothes as well as other things *ooh cryptic*
* My boyfriend and I have lived together before at uni, but we weren't a couple then. We met because we ended up living together (with other people too) and then got together at the end of the year.
So anyway, I have a nice new flat, which is still a bit of a mess as we haven't worked out where to put everything yet! I may do a house tour blog/vlog at some point when it's all more sorted, but I need to check with my boyfriend if that's ok, as obviously it's his home too and he might not want it on the internet! I now also have the dilemma of "work wear" as I've just been a casual slobby student for the past four years and so I'm clueless as to what to wear in an office! I think I'll be doing some workwear inspiration posts over the next few weeks to try and get some ideas. If anyone has any links to kind of "smart casual office wear" type style blogs then I'd be very grateful if you'd share!
Right, so, I've been feeling a bit blah and uninspired with blogging lately, and not really liking my blog at the moment. So I thought, to give me a bit of a kick up the bum and hopefully get me re-inspired, I'd do the
31 Day Fashion Blogger Challenge as devised by Selina.
Now I know she and a load of other bloggers did this in May, but I was busy with uni finals then, so I'm going to do it in July instead, as it handily also has 31 days. I know it's the 2nd now, so I'm already a day late, but I'll just do the first two challenges today, because it's my blog, and I can! So without further ado:
1st. Your wardrobe.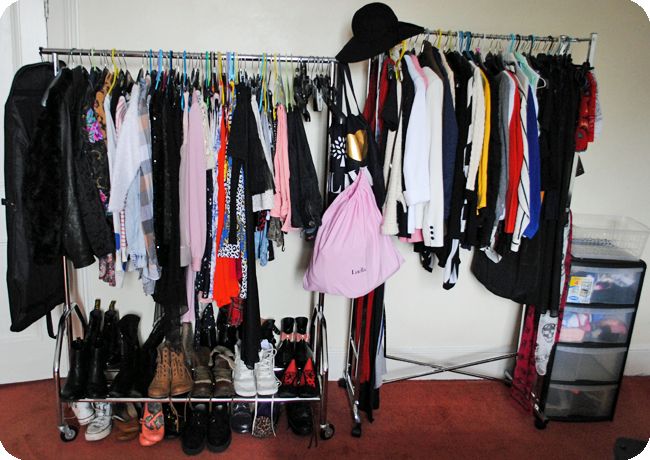 Not so much of a wardrobe, but these are my two clothing rails. I already had the one on the right, and fortunately the (larger) one on the left came with the flat. I've separated everything out into casual/weekend wear on the left-hand rail, and work-appropriate clothes on the right-hand rail. This could all change once I get to know the specifics of the dress-code at work though. I'm going to start smart, and get a bit more casual from there, depending on what other people in the office wear.
I also have a lot of clothes in a cupboard too at the moment, as I'm still waiting to get a chest of drawers, so all my t-shirts and shorts and things like that are folded away. I won't show you those because it's all a bit of a crammed in jumble! The lack of chest of drawers is the reason I'm having to use the ugly plastic drawers on the right for my socks and tights and underwear etc at the moment. I can't wait to get rid of it! My shoes don't really have a home either as you can see, some are on the bottom of the rail, others hidden under it, or under the bed or in a cupboard! I'd love some of those clear shoe storage boxes, but I'd need loads of them and they're just too expensive.
2nd. You have the most...
Black shoes!
I'd hazard a guess that most people have more black shoes than any other colour of shoe, but I still think this is a lot of black shoes! I love shoes, especially heels, but I don't really get chance to wear the majority of pairs, or just forget I've got them and stick to the same 2 or 3 pairs. I might have to try some kind of rotation scheme on my shoes to make sure I get use out of them all. When I was packing to move I found pairs of shoes I'd completely forgotten about, which made me feel a bit guilty. I think I'm going to start implementing a "one in one out" policy with shoes, as I don't have the room for any more really, and it might stop me from buying pairs I won't really wear.
This is becoming a bit of a long post, so I'm going to stop there. There will probably be a lot more rambling about the flat/job/Watford etc to come, I'll warn you now!
Ah, it's good to be back blogging!