Tomorrow I'll be at London Fashion Week, finding out what's going to be the next big thing for SS13 whilst trying to look relevant for AW12. The post-fash week confusion of knowing you should wear
fashion
weather appropriate clothing whilst lusting after the currently completely impractical fashions of the next season will no doubt hit me at some point in the next couple of weeks, but for now, let's press on with the AW12 planning/designer inspired posts I kicked off last week with
Dolce and Gabbana
.
Next up: Versace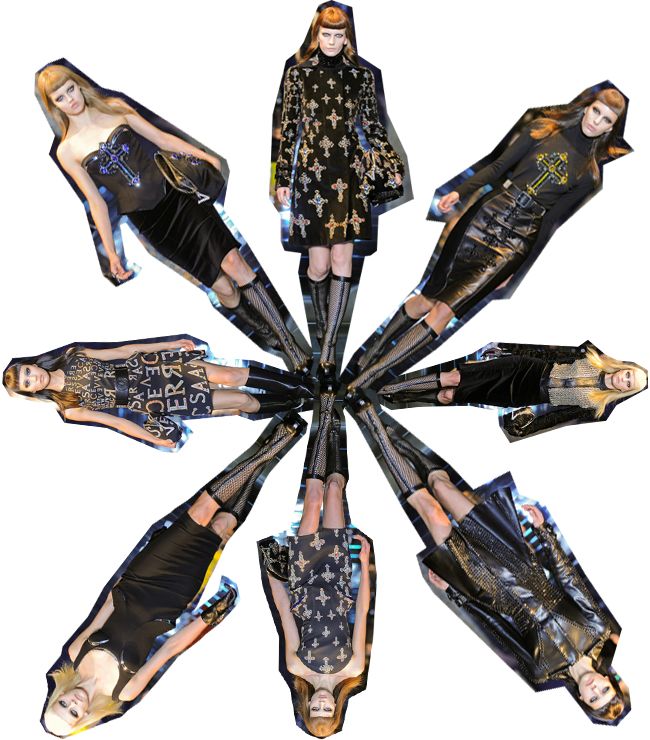 What a surprise! I
like the gothic
stuff. This Versace collection is a bit more glamourous than my usual slightly more grunge-y leanings, and I'm now determined to cover myself in bejewelled gothic crosses and leather pencil skirts (that have come across in the Versace collection as surprisingly non-kinky.)
Fortunately for those of us who cannot afford our own bit of Donatella, there are loads of affordable items out there with which to "get the look," (although I probs won't be copying that weird helmet fringe!)
Mesh sleeve cross dress
- This dress from Boohoo is pretty much as Versace as you can get on a budget. It's only £25, and if I didn't already have a bajillion LBDs, I'd be very likely to buy it for myself.
Leather peplum belt
- From Asos, this reminds me of the pseudo-peplum details on a lot of the Versace tops and dresses, and would be a really easy way to work the trend into your wardrobe. (Blech, I feel like I sound really Gok Wan when I say stuff like that. It will cinch in your waist and give you that great hourglass figure girls!)
Jewelled cross sweatshirt
- This Missguided sweatshirt will be mine! I saw on twitter that
Sara
had worn it to Fashion Week and immediately fell in love with it.
Faux leather pencil skirt
- As much as I love my leather jacket, I'm loathe to spend loads of money on other leather items which are more likely to be passing trends and not worth spending loads of money on, so this £20 Boohoo faux leather pencil skirt is right up my street, and will probably soon be right through my letterbox. (Ok, ok, I accept that I cannot pun!)
What do you think of the gothic look of the Versace collection? Will you join me and deck yourself out in bejewelled crosses and leather, or are you steering well clear?