The third and final of my "Autumn Winter Planning" series, following
Dolce and Gabbana
and
Versace
.
Once again, it's not at all surprising that I love the AW12 Balmain collection. Lots of dark colours, leather and velvet (I am all over velvet right now!)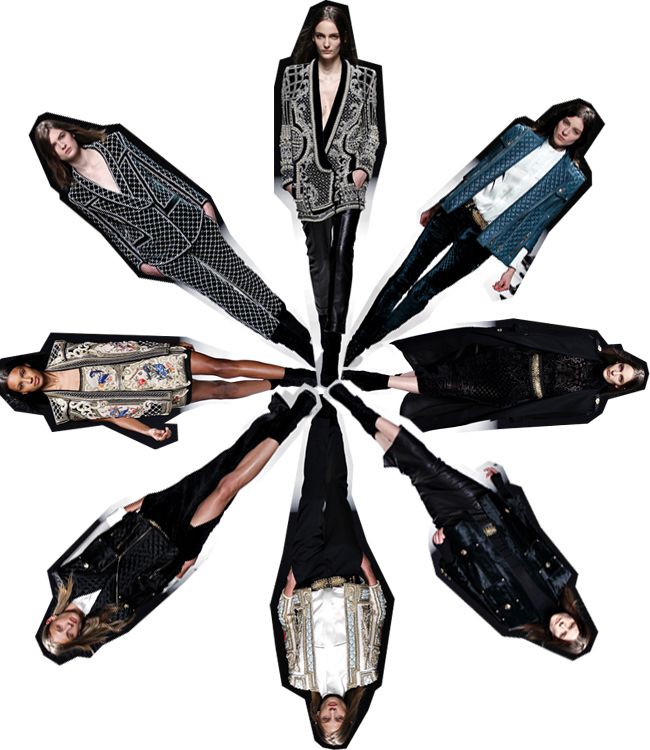 I never really got the whole "trophy jacket" thing when it first popped up a few years ago, but what I wouldn't give for a Fabergé egg inspired, pearl encrusted Balmain jacket! Unfortunately my budget won't stretch to the €32,380.00 price tag of one of those, so here are my more normal-girl friendly picks of Balmain-inspired pieces I want in my wardrobe right now.
Quilted leather jacket
- I've been looking at quilted leather jackets like this one from
Missguided
for ages now. I already have a lovely non-quilted biker, but this one is clearly completely different and therefore a purchase would be completely justified...
Skinny velvet trousers
- These
Motel Rocks
trousers are amazing. They're the same cut as the Jordan Jeans which I own three pairs of and love. I have a pair of black velvet leggings, but I think velvet trousers are a must for Autumn/Winter too now! They also come in a gorgeous dark blue.
Velvet maxi with side split
- I love how Balmain made such a glamourous looking (and a bit sexy with the split) skirt seem really cool and casual by pairing it with an oversized biker jacket. This one from
Asos
is in the sale, so clearly the fates are telling me that it's meant to be and I must buy it!
Pearl embellished jacket
- This Lipsy jacket is the closest I've seen to that amazing embellished Balmain suit, but I wish it was longer and more relaxed like the designer version. Currently trying to work out whether it would be a completely mental idea to try and DIY one. I think the answer to that is probably yes!
So, should anyone win the lottery and wish to treat a blogger to some expensive designer gear, I'll be taking Balmain donations over here! What do you all think of the collection? Is it a look you'd wear?