I LOVE Christmas, but I usually have a rule about not letting myself get excited about it or celebrate in any way before the 1st December. I made an exception for the
Boohoo
#KnitB4Xmas event however - comedy Christmas jumpers and sub-zero cocktails? Count me in!
The event was held at
ICEBAR
just off Regent Street. If you haven't heard of it, basically, it does what it says on the tin, it's a bar made of ice. It's -5°C in there and even the glasses are made of ice! Fortunately they give you a *ahem* "designer thermal cape" to wear which has gloves attached to the sides, like when you were at primary school and your mum sewed strings to your mittens so you couldn't lose them!
I call this my "frozen elf" look...
The looking slightly daft-ness didn't stop there. The point of the event, as I'm sure you can gather from the name, was to show off Boohoo's fun
Xmas jumpers
(and pretty partywear, but that doesn't have nearly as much comedy value.) Not only could we dress up in novelty knits and have our photo taken, they then superimposed tacky festive backgrounds onto the images. This was right up mine and
Sherin's
street, and we may have hogged the photographer for a bit longer than we should have.
With
Robyn
from 7thingsmedia, Sherin and Natasha from
Girl in the Lens
.
Me + Sherin + cocktails + Xmas jumpers = one of my favourite photos ever. This stunner is now decorating my desk at work.
Of course it just wouldn't be Christmas without the big man himself!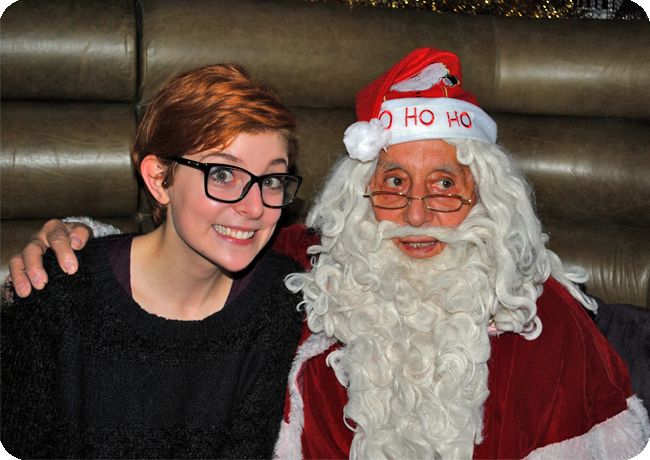 Err yeah. One of the Boohoo girls told me he didn't quite look like the picture on the website they booked him from. He told me he liked reindeer... to eat!
Do you have a cheesy Christmas jumper? I have a knitted dress with reindeer on and my
new Christmas pudding hat
, and now I'm pretty tempted by the Boohoo fat Santa jumper too!