It's exactly one month 'til Christmas, and that means one thing. It's officially Christmas party season. If you're anything like me, you'll spend a lot of time thinking about what you want to wear, and even longer trying to track down that perfect party dress that you've imagined, but can't find in real life! On top of that, a recent survey by
VoucherCodes.co.uk
has shown that we spend an average of £119 on a Christmas party outfit that, let's face it, will probably only get worn once. That all sounds a little ridiculous, so Voucher Codes set me a challenge - to get a party dress and accessories for £80 instead of £119, and then to style not one, but three different party outfits.
So firstly and most importantly, the dress! The point of this challenge was to pick a dress that is both affordable and versatile, to prove you don't have to break the bank to look nice at Christmas, and that you can re-wear a party outfit. I was tempted to go with a very plain, very predictable LBD, which would no doubt be easy to style in different ways, but then I realised that would be very boring and not too much of a challenge. Of course, this is still me we're talking about, so unsurprisingly I did go for a black dress, but I think the one I picked is quite fun and unusual still.
After hours of online window shopping and contant moaning at my boyfriend that it was too difficult because there was far too much to choose from, I went for this
long sleeve off the shoulder dress
from
Motel Rocks
.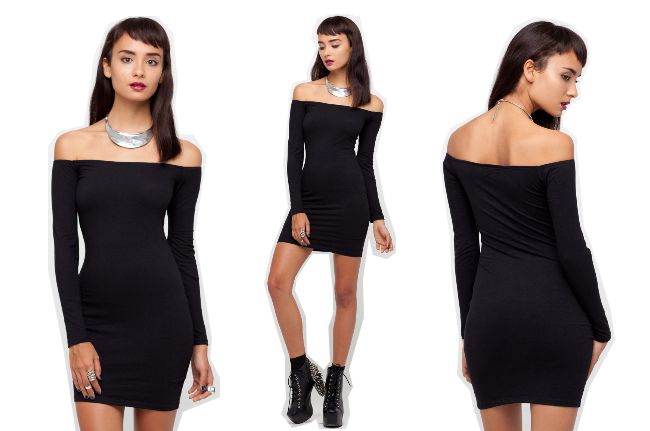 The dress is £32, which is a good price to begin with, but because this challenge was set by Voucher Codes, I decided to see if I could find a discount code on their site and came up trumps with 30% off! In the end the dress only cost £22.40, which is a complete bargain! If anything on the Motel website catches your eye, it's definitely worth popping over to Voucher Codes to see if they have any
Motel Rocks
discount codes and save yourself some pennies!
Once I'd decided on my dress, it was then off to the shops to pick up some accessories with my remaining budget to style the dress into three different looks. Here's what I got!
Furry bag £14.99 H&M,
Black and gold socks
£3.50 Topshop, Elf hat £5 Claire's, Studded hairband £2.50 Primark, Ear cuff £4.50 Claire's, Christmas socks £2.50 (for 5 pairs) Primark,
Cat ear hairband
£8.50 Topshop, Cross motif tights £3.50 Primark, Necklace £5 Primark.
Total (including dress) = £72.49
I must admit I think I went a bit costumey in this outfit. The studded hairband with the ear cuff with the cross tights and creepers and the leather jacket-y thing possibly looks a bit like I'm in fancy dress, so I'd probably actually take one or two of those things out if I wore this outfit again. I do think this is a good look for drinks with friends/workmates though. It's not too OTT dressy, but the dress keeps it from being casual and "daywear". Yeah, I don't know what I'm trying to say here really. Just look at the outfit and let me know what you think! I am in love with this hairband though and I'm sure I'll be wearing it to death up until Christmas and beyond!
This is my take on an "office Christmas party" look, hence the ridiculous novelty hat and Christmas socks! This is my first Christmas in full-time employment, and so for all I know our office party might be the height of sophistication, but I'm a fan of daft Christmas accessories all the same. Our Christmas party is going to be in the afternoon, so I'll be going straight from work, and therefore wouldn't really feel comfortable sitting at my desk in a bodycon dress in the morning. So I decided to put this skirt on over the top and I think it looks pretty nice and definitely more office-appropriate. I love this chain-link collar necklace from Primark. It did have a big tacky diamante hanging from the middle, but I just took that off.
My final look started off in my head as being very dressed-up and glamorous, but try as I may, I'm not really someone who can pull off "glamour", so this ended up being a crazy furry bag, blingy cat ears and socks with heels kind of look. Whatever, it's kind of fun, and I'd definitely wear this look out on Christmas eve with my friends (though probably without the cat ears.) I still don't quite understand what drew me to this weird furry bag, but it's just so fun and odd that I had to get it! I'm definitely in a bit of a sock phase at the moment and I like the fancy sock and heels pairing, so this Topshop pair will get at least one party outing this year I'm sure.
So there we go, three party outfits for under £80. I hope I've given some of you some inspiration, although I am aware I may have just provided you with one fancy dress look and two ways to look like a crazy person!
If nothing else I hope you can all take two things away from this post:
1) Re-wear your party dresses, they need to be loved more than once!
and 2) ALWAYS check to see if you can find a
discount code
before shopping, it can save you a pretty penny!
Disclaimer: VoucherCodes.co.uk gave me the £80 for this challenge, but I chose the dress and accessories myself. I was not obliged to use VoucherCodes.co.uk to get a discount on any of my purchases, and I was not paid for this post.