If you had to pick one stand-out trend item for AW13 it would be the pink coat. All over the catwalks last spring, then all over the high street this winter, it's a piece that screams "I do fashion." Of course I'm a sucker for a trend and The Pink Coat went straight to the top of my winter wishlist. Being such a statement piece though made the snob in me come out, and I knew I didn't want to be wearing the exact same coat as everyone else, that's instantly recognisable from being from X highstreet store or Y online retailer. So I resolved to make my own.
The inspiration:


sources L-R: What Olivia Did, Céline & Simone Rocha AW13, Marilyn's Closet, LaurenConrad.com, Carven AW13
I realised making a coat would take quite some time and effort, and so to give mine a bit of longevity I decided to forgo a super trend-driven boyfriend shape with lapels, and instead decided to go for a simple cocoon shape. (I'll admit that part of the reason is that I'm a bit scared to have a go at lapels!) It's lost a bit of the shape because I ended up shortening it by several inches, but the idea is there.
Looking at it now I feel like it looks a bit plain and sack-like. The
original pattern
had a strange ruffle on the front that I took out, but I feel like it looks like it's lacking something. If I can find some kind of embellishment that won't make it look too frou-frou (a danger because of the colour I think), then I might change it up a bit.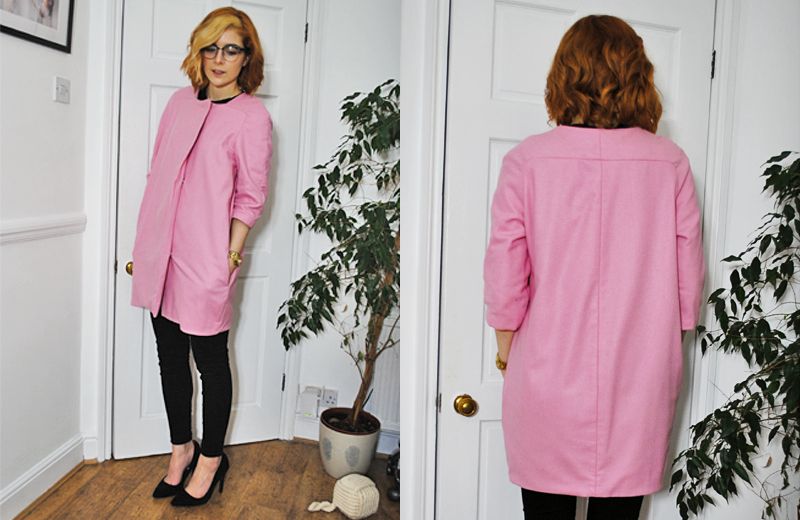 I've only worn it a couple of times because even with long gloves, the bracelet length sleeves are a bit draughty for the temperatures we're currently getting. Fortunately it seems like the pink coat trend is going to hang around for Spring/Summer, so I'm sure it will get a lot more wear once it warms up a bit. I also like it better when it's undone. Buttoned up I feel a bit like a bottle of Pepto Bismol!
All in all I don't think it's a bad effort for my first coat. I'd still like to make a slouchy boyfriend-style coat with lapels too, just in a less trendy hue, so hopefully that will be slightly more successful. I apologise for the dodgy pictures, it turns out I am very out of practice with the whole blog photos thing. The old "fashion blogger poses" are coming back to me though - hunch over, pigeon toes, gaze off into the distance...
Pattern:
Burdastyle 12/2011 #101
Fabrics: Pink wool from the Fancy Silk Store, interlined with flannel from eBay. Lining is pink silk habotai from eBay.
Notions: 3 large metal press stud fasteners