This dress is a perfect example of how I sew things. I originally intended it to be an entry for the "Sew Dolly Clackett"
sewalong
earlier this year, where the idea was to sew something in the style of the always-awesome
Roisin.
The deadline for entries was the end of April, so I decided on my pattern and fabric and ordered it all etc a good month before then. And then I traced the pattern, muslined the bodice, cut my fabric and started sewing it up about three weeks before the deadline. When did I finish it? The second week of August.. Yes, I am definitely a) a procrastinator and b) incredibly fickle when it comes to my sewing projects. I'll start something, then a shiny new pattern or some awesome new fabric will catch my eye, I'll drop everything and start a new project. Then the same thing will happen again. Over and over and over again. My pile of half-finished garments is really quite horrifying.
But in the end, I finished this dress! And in the style of Roisin, I've named it - the "better late than never dress." But before we get on to pictures, here's my inspiration!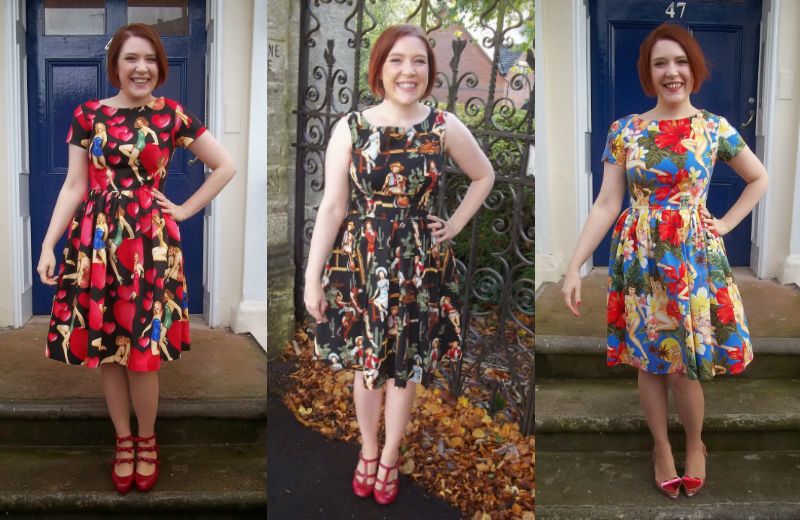 Los Amantes Clandestinos dress, Absent Friends dress, Blanche dress. All images via Dolly Clackett, of course.
I knew I wanted to use the Dolly Clackett fave Emery Dress pattern, even if it is a bit more girly and twee than my usual style. I also knew if I was going to go all-out Dolly Clackett, I wanted to use an Alexander Henry fabric. I was considering using the white colour way of the pin-ups with hearts fabric, but knew I probably wouldn't end up wearing it out, so I eventually went for the awesome pin-up mermaids "Sirens" fabric.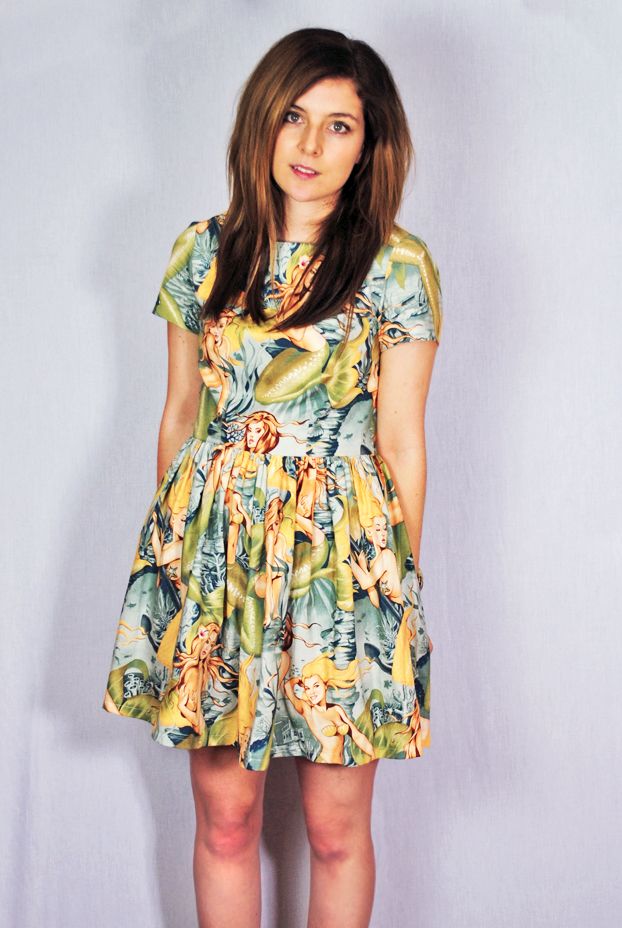 I definitely didn't expect the mermaids to be quite so big, so I was surprised when I received the fabric in the post - but now I'm totally in love with the pattern. I went for the more muted teal and green colourway and I think it's really beautiful. I think it makes the dress more wearable than you'd expect for an item of clothing covered in half-naked mermaids...
I tried to be really careful with the pattern placement so as to make the most out of the print, and not deform any of the mermaids with the bodice darts- and as such I barely managed to squeak this out of the two metres of fabric I bought. Fortunately I'd decided to forgo the collar and bow from the pattern, and I like my skirts quite short! I've still ended up with one mermaid's face right on my right boob though, oops!
I also chose to do a lapped zip instead of an invisible one - mainly because I wanted to have a go at a new technique. I've only ever sewn one other lapped zip before, and that was on a cushion so barely counts, and this one isn't perfect but I'm still really pleased with it.
The sleeves are finished by hand but I machined the skirt hem. I'm also really pleased with those gathers. I've never managed to get neat, even gathers before but I was really patient with these and it's really paid off!
Pattern: Christine Haynes Emery dress
Fabric: Alexander Henry 'Sirens' from
Fondant Fabrics
Notions: 22" dress zip
So there we have it. The months-in-the-making Better Late Than Never dress. Now excuse me whilst I run off to twirl around in it because it makes me feel so girly and cute!