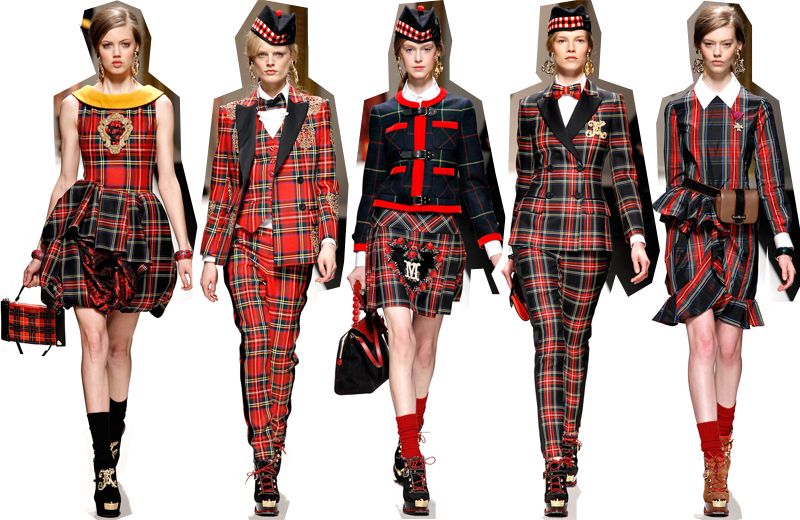 source: style.com
Ask any of my friends or colleagues and they'll tell you I'm obsessed with tartan. I've always had a thing for it, (I remember being dressed in various tartan dresses as a kid,) but it notched up a gear after seeing the check-tastic Moschino A/W '13 collection.
Look at all of that crazy OTT matchy-matchy tartan wonderousness! I still have plans for a tartan jacket (or full tartan suit...?)
I had this black Stewart tartan in my stash, waiting to turn it into a dress, but as soon as I got my hands on the By Hand London Holly pattern, I knew I had to have a pair of ridiculously wide-legged tartan trousers in my life!
I spent a lot of time cutting these out and making sure to match the patterns. I should have tacked the side seams together though as even though I carefully pinned, the fabric shifted and I'm a bit off on the left leg especially, where the zip is. Speaking of the zip, I was so keen to get these sewn up and finished once I'd started, that I inserted a lapped zip instead of the invisible zip called for in the pattern, as
I didn't have an invisible zip to hand. These are a really quick make actually, and a lot easier than I anticipated. The best thing about these trousers is how incredibly comfortable they are!
I definitely want to make another pair, (I'm thinking in navy suiting fabric with a thin white pinstripe?) but I might reduce the width of the legs slightly next time. I've also used the trouser part of the pattern to make a playsuit which I'll blog about shortly!
Pattern: By Hand London Holly jumpsuit
Fabric: Black Stewart tartan polyviscose from eBay.
Notions: 1x 'bog standard' skirt zip, 1x hook and bar
P.S. HAPPY NEW YEAR! Here's to an
amazing
2015!