Dolce and Gabbana is (are?) one of my favourite fashion designers. Season after season I fall head over heels with their collections. I'm not even a 'Dolce & Gabbana girl'. My style doesn't really include lace babydoll dresses and bloomers, but there's something about their aesthetic - and the fact that each collection is different from the last and yet still recognisable as D&G - that really appeals to me.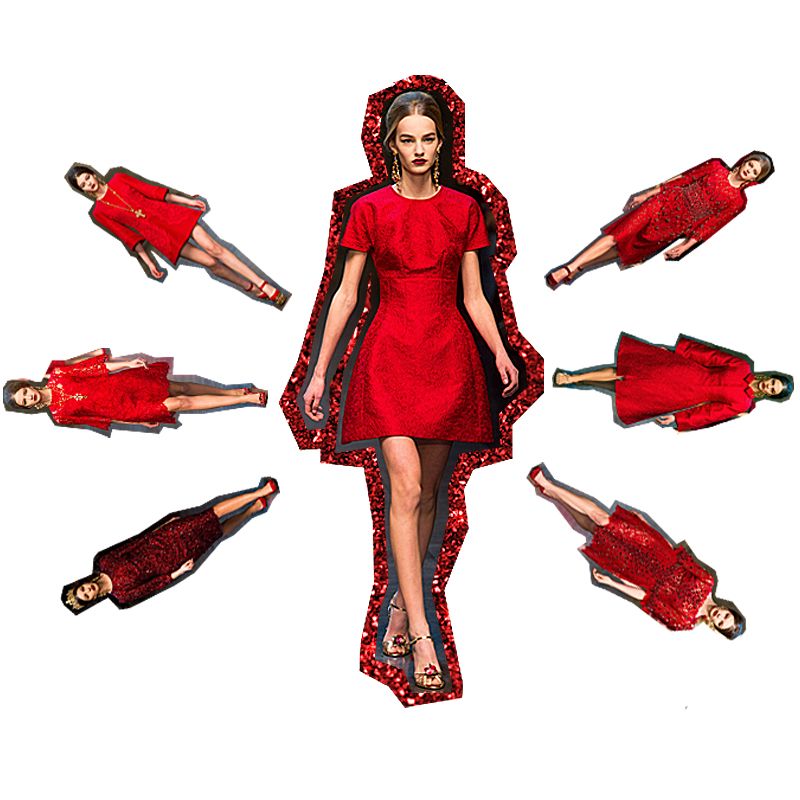 source: style.com
The Autumn Winter 2013 collection stuck with me particularly - aside from the golden, mosaic-inspired show opening, the rest of the collection was monochrome looks in black, white and scarlet. Red isn't really my colour - I try to keep it away from my face especially - but after I saw the look in the centre of the image above, and realised how similar to the By Hand London Anna dress it looked, I couldn't get the idea of making my own homage out of my head.
I found this amazing sparkly red wool blend fabric on Goldhawk Road. It's a very strange fabric - it's bobbly like a bouclé, with some metallic threads shot through, but it's also stretchy. That made it a bit of a pain in the bum to sew as it shifted and stretched a lot, but I finally got there!
I shortened the skirt considerably, (you know how I love a mini,) and the thickness of the fabric means it holds its flared shape really nicely. Yes the skirt doesn't look like the Dolce and Gabbana dress, but the Anna skirt is more wearable for me.
The waist seam got a bit bulky, which is why this looks best with a belt. Once I'd sewn all the million seams involved in the Anna, and inserted the bodice lining, I didn't fancy unpicking everything to try and remove the bulk.
Pattern:
By Hand London Anna dress
Fabric: Wool blend from Goldhawk Road (can't remember which shop exactly, but it was one of the messier ones!), cheapy polyester lining fabric (probably from eBay.)
Notions: Invisible zip