In my
Spring wishlist
post I included a picture of a Topshop
jacquard leopard print skirt.
I first saw it on
The Debrief
in an article where
Kristabel
took pictures of various Topshop outfits. Then I kept seeing it (and many other similar ones) pop up on blogs and people at work and really wanted it, but couldn't bring myself to spend the best part of £38 on a pretty basic skirt. So I thought I'd make my own...
The inspiration...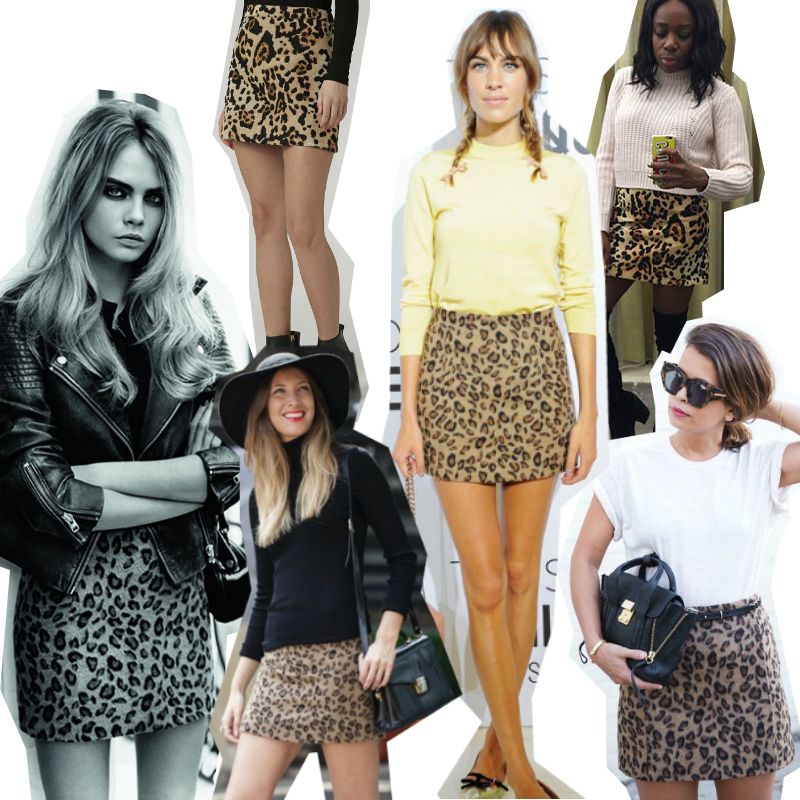 Images from: Topshop, Pinterest (no attribution), The Debrief, Collage Vintage.
I found some really similar
leopard print upholstery fabric
on eBay for only £5.75 per metre and decided to use the Delphine skirt pattern from the
Tilly and the Buttons
book
"Love at First Stitch: Demystifying Dressmaking"
. The Delphine pattern is a bit more of an exaggerated a-line shape than I was after, so I just slimmed the sides in a little below the hips. And here's the result:
I'm really pleased with how it turned out! When you add up the fabric and the zip (I had the rest of the notions I needed already), it cost me a whole £6.75! Which is a damn sight less than £38, plus I know it's great quality and won't fall apart because I sewed it myself! Plus, an a-line skirt was one of my "Spring key pieces", so I'm sure it will get worn to death!
The skirt is underlined with what I *think* is a stretch gaberdine that I got an absolute ton of from the Fancy Silk Store in Birmingham. I knew the upholstery fabric would stretch out of shape without it, and this helps give the a-line shape more structure too. The seams and hem are all bound in bright pink bias binding! The binding added a lot of time to the construction of the skirt, but I love the neatness of a bound seam and had this pink binding left over from my
flamingo suit
and I thought it would be fun to have a secret flash of colour inside the skirt. Also, you can't see it very well but there's a "handmade by fritha louise" tag on the waistband that I got made by
Woven Labels UK
.
Jacket - Emilio Pucci (from TK Maxx)
T-shirt - Zoe Karssen (from TK Maxx)
Skirt - DIY
Boots - Asos
What do you think? Have you ever made your own version of something you've wanted from the highstreet?