I really struggle to dress myself when the weather warms up. Don't get me wrong, I love the summer, but I am a winter dresser at heart. Give me jumpers, tights, layers and lots and lots of black and I'm happy. Once we get to Spring though, it feels like 90% of my wardrobe is unwearable and I revert to an incredibly boring uniform of jeans and t-shirts with the occasional dress if I feel up to getting my legs out.
UK-based peeps will know that Spring has sprung, and the warm weather seems to be here to stay (or almost, today is a little chilly.) Unfortunately,
having just quit my job and all
, I'm pretty broke, so can't do my usual panicked smash-and-grab of all things floaty and pastel-coloured in Primark and the like to fill up my Summer wardrobe (no, I have no idea where all of last year's clothes went either.) Instead, I've decided that
careful planning
is in order, to identify my 'key pieces' for summer, so I come out with an affordable, functional wardrobe (i.e. no impulse trend buys that I then find I just totally cannot style.)
I used to do this kind of post a lot back in the day, and they were always really fun to do, so I thought I'd resurrect the seasonal planning. So, no more rambling, here are my favourite trends for SS15.
Seventies

Featuring Chloe, Anna Sui, Tom Ford, Saint Laurent. All images from Style.com
Unless you've been living in a cave, you'll know that the 70s is a huge trend this season. I always used to think seventies fashions were without exception completely vile, but that's the way of things with fashion isn't it. One minute you hate something, the next you can't wait to wear it. Anyway, I think this is a 'tread carefully for fear of looking like you're in fancy dress' kind of trend, but I'm sure some seventies-esque separates will be making their way into my wardrobe. I am definitely hankering after a pair of flares, A-line mini skirts and copious amounts of suede right now (although probably with fewer sparkles and less paisley than Tom Ford, Saint Laurent et al.)
Denim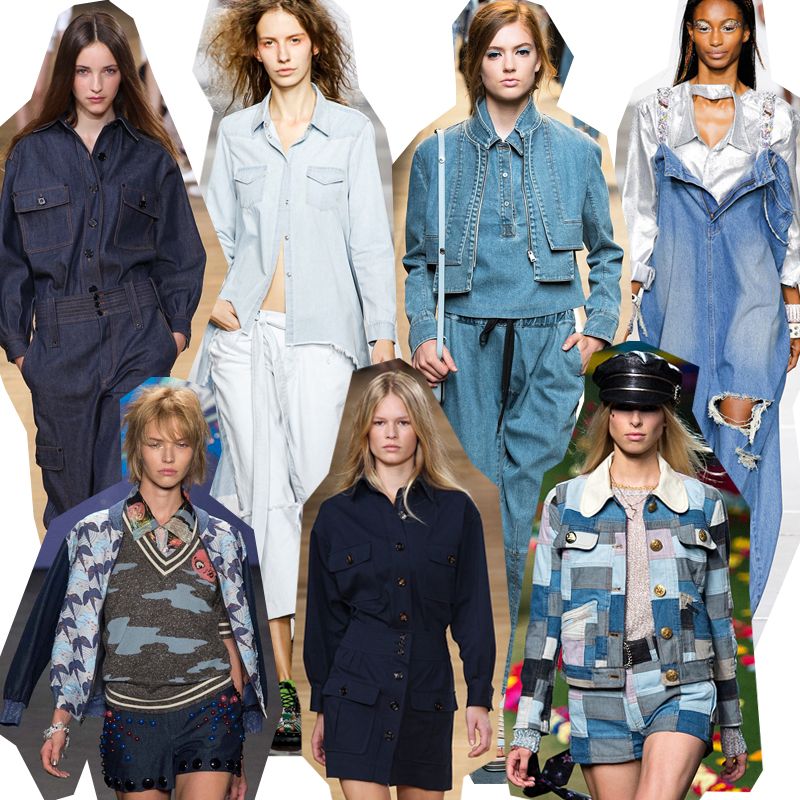 Featuring Chloe, Anna Sui, Marques'Almeida, Fendi, Tommy Hilfiger, Ashish
Can we call denim a trend? Jeans are a staple of mine, and I have a well-loved denim jacket that comes out every Spring, but this season seems to be about denim overload. The more layers, colours, washes, patches etc the better. A denim dress is a must-have, and I'm feeling it's finally time to break away from my trusted skinnies and try out some different styles of jeans - I'm especially taken with the boyfriend fit with the huge turn ups from Marques'Almeida.
Utility Luxe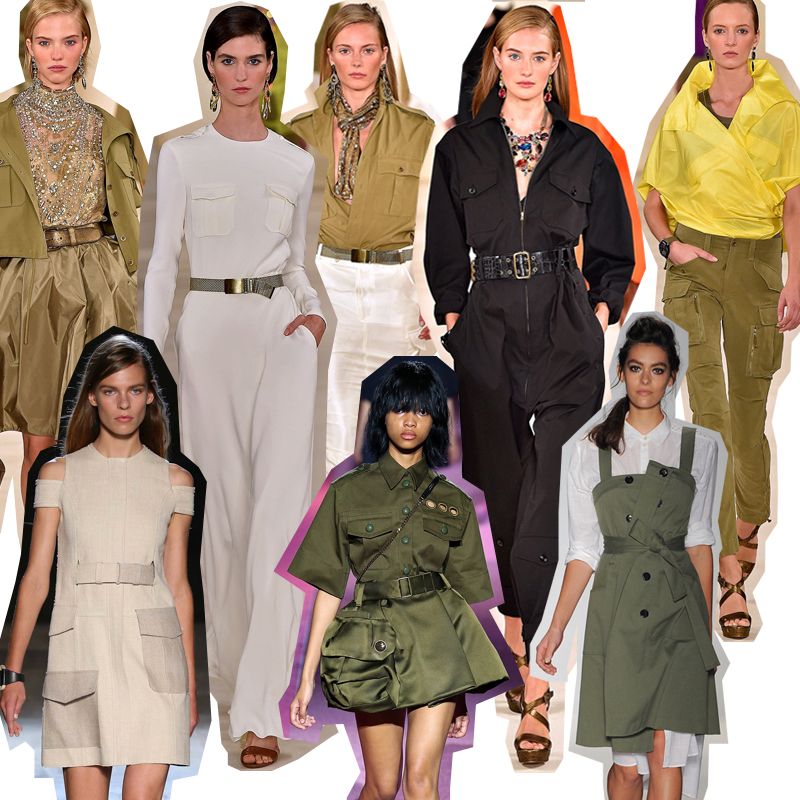 Featuring Marissa Webb, Ralph Lauren, Marc Jacobs, Victoria Beckham
I'm always a fan of anything vaguely military, so this season's utility trend is really appealing to me. I'm far more upset than I should admit to that I can't afford the Ralph Lauren black jumpsuit and white maxi dress with the pockets (not that I can wear all white for more than 2 minutes without spilling something down myself.) I'll be on the hunt for the perfect jumpsuit - I'm telling myself it will be a good investment as it's a day to night/dress up or dress down piece right? I've already got a great pair of green skinny cargo trousers that I love, so they'll be getting worn to death no doubt.
Boyfriend Shirts

Featuring Michael Kors, Jil Sander, Peter Som, Tory Burch
A little bit more of a micro-trend here, but I'm loving all of the smart, blue and white "men's" shirts that were on the Spring catwalks. A cheap trend to buy into if you have an obliging and conveniently-sized boyfriend(/brother/dad/long-suffering male friend), and even if you don't, it's always a good idea to own a smart shirt right? I especially love the styling at Michael Kors with the full, sheer, floral skirts and tied-off belts, which will be an easy silhouette to copy.
So there they are, my favourite trends. Now to condense them down into a (short) shopping list of must-buy (or make) items, and hopefully I'll be able to get through Spring without overheating in inappropriately wintery clothes, or looking like I've gotten dressed in the dark! Part 2 with that in coming soon!