So following on from
part 1
of my Spring wardrobe planning post, I've had a think about the trends I like, and what I already own, and come up with a shopping list of five key items to buy (or make) for the new season.
A-line skirt

All runway images from Style.com. Skirts from (l-r) New Look x2, Topshop
Mini skirts are a wardrobe staple for me, so I'm definitely going to be getting a 70s-style A-line mini for Spring. Or maybe a couple... I'm really taken with the button-through denim version from New Look, and I think I'm going to have to tick off the suede trend too in the form of a skirt.
Flared jeans

Jeans from (l-r) Clothing at Tesco, Topshop
Flares are one of the most obvious ways to channel the seventies this season. I'm a jeans girl at heart so despite the many lovely trouser versions popping up on the high street, it'll be denim all the way for me. Now to decide whether to go for a cropped kick flare, like the Topshop ones pictured on the right, or full on bell bottom. The pair in the image are from F&F and are a bargainous £20!
Denim dress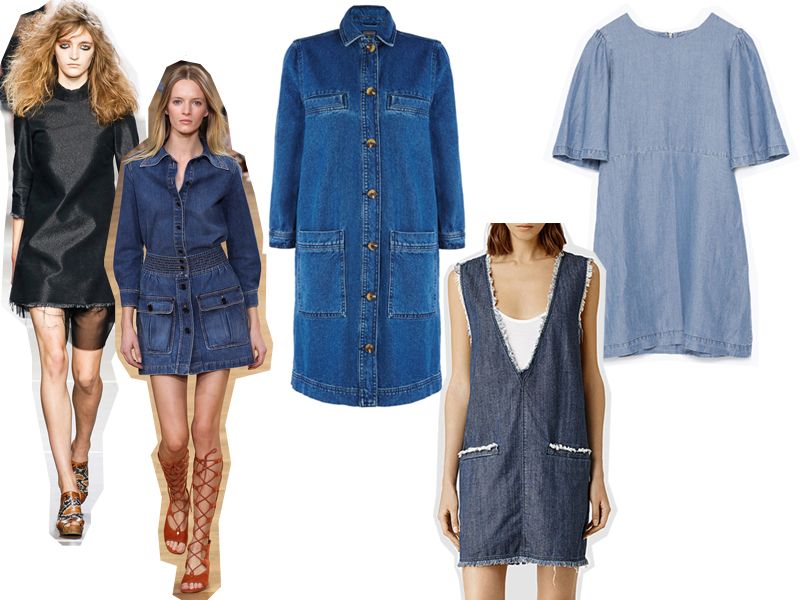 Dresses from (l-r) Warehouse, All Saints, Zara
Again with the denim, I'm after a dress. There are so many different styles available, but I'm especially loving the Chloe-esque button-through "denim jacket dress" from Warehouse. I don't think I can justify spending £52 on it though, so if anyone sees anything similar but less expensive, please let me know!
'Boyfriend' shirt

Shirts from (l-r) Topshop, Zara, Uniqlo
I suddenly can't see how I've lived without one of these shirts. I keep imagining outfits with a slightly oversized, blue and white shirt - tucked into a skater skirt, half tucked into a pair of boyfriend jeans with rolled up ankles and some heels, unbuttoned with a vest and denim shorts - I just won't be able to get through Spring and Summer without one... (yes, I can justify any purchase to myself!)
Utility jumpsuit
Jumpsuits from Asos
Asos is killing it on the utility jumpsuits for Spring. All three pictured above are Asos own brand. Not being all leggy and model-ish, I'd probably look like a car mechanic in the denim one, but I'm tempted by the pink jumpsuit. Ok, so it's highly impractical and not at all like the khaki or black version I initially had in mind, but look, so pretty!
What are you going to be buying for the new season? And am I going crazy thinking flares are a good idea? Or should I just embrace the freedom for my ankles...