This is my latest sewing creation and it's a hacked pattern - a combination of the
Christine Haynes
Emery dress bodice (the pattern from my
'saucy mermaids' dress
) and the
By Hand London
Charlotte skirt. I've got a couple of midi-length bodycon jersey dresses, and thought I'd like to recreate a similar silhouette but more structured. I had loads of this striped cotton sateen that I got for dirt cheap on eBay, and so I thought I'd have a go at this dress.
I made a few modifications to the original patterns - I moved the bodice darts slightly to meet up with the central darts on the skirt, slimmed the sleeves down and added a back vent. I also lengthened the skirt darts slightly to improve the fit, but that's a standard adjustment I make on my (numerous) Charlotte skirts.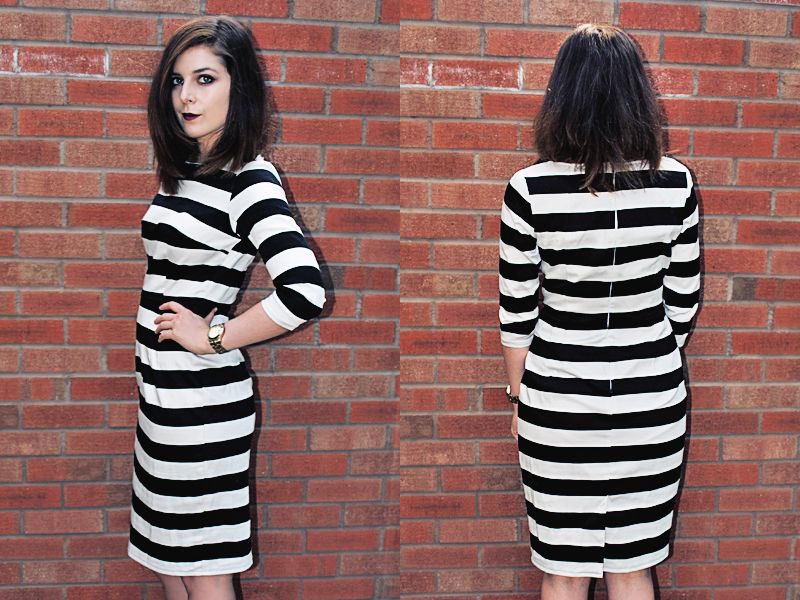 I'm trying to learn a new skill or try a new method of construction with every new garment I sew at the moment, to improve my sewing. This is the first time I've added a vent to a skirt. I just read a couple of tutorials I found by googling and it was really straightforward and has turned out really well. I also finished the neckline with (bright pink) bias binding, which I haven't done before. It's not perfect, but this was always going to be a 'try it and see what happens' make. The stripes are a teeny bit off on the side seams and the invisible zip is not so invisible, but I still really love this dress. It's fun combining the in-your-face bold stripes with a longer skirt and sleeves than I'd usually go for.
I'm getting more confident with pattern manipulation now and I'm really pleased with how this 'hack' turned out. I'm definitely going to be messing about with more pattern combinations from now on!