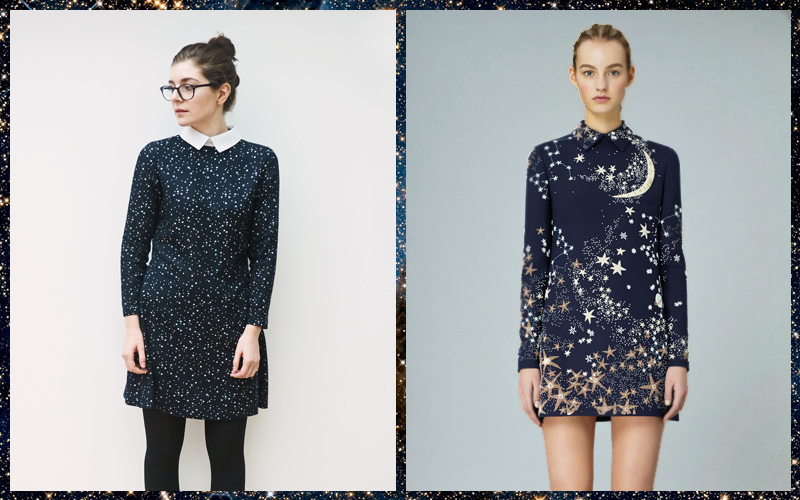 I've been obsessed with space and the stars since I was little - when I was younger I had a glow in the galaxy on my bedroom ceiling, complete with specific constellations and planets - so I am definitely partial to space-themed clothing. The trend for galaxy print has been around for years now, and can look a bit tired, but I fell head over heels with the star-themed designs in the
Valentino pre-fall 2015 collection.
I especially loved the collared dresses, so when I found some cute, affordable star print fabric on eBay, I decided a Valentino-inspired dress needed to be made.
You can't really tell, but the stars are metallic silver on a dark blue background.
The dress is made from a combination of two sewing patterns, the
Wear Lemonade Bianca blouse
and the
Simple Sew Brigitte dress
. It was simply a case of layering the two patterns to use the neckline and collar of the blouse with the body of the dress, which fit together with just a tiny tweak needed to the angle of the shoulder, and then I slimmed the sleeves down a little bit. And the best part - both of these patterns are free!
The collar sticks out a bit too much at the back, because it's interfaced. Next time I'll probably tack it down a little or use a less crisp fabric for the collar.
I didn't make a muslin for this dress as I was pretty sure from the simple fit and construction that it would fit pretty well. I just adjusted some seam allowances as I went, and I'm almost 100% happy with it. It's really easy and comfortable to wear, but looks quite polished, and I think I'll be making a couple more dresses from this hacked pattern.